Your cellphone has lots of personal pictures, videos and files which you don't want to share with anyone. Now you can hide all you personal images, videos and files with Hide It Pro app. The app is available for all android and iOS device which allows you to hide files even hides apps that you don't want anyone to see. You can lock all your personal file with the password, so no one can access them.
All you have to install the app on your iOS or Android device and set the password, so next time to when you have to browse your personal files enter the password and enjoy viewing your personal photos and videos on your device.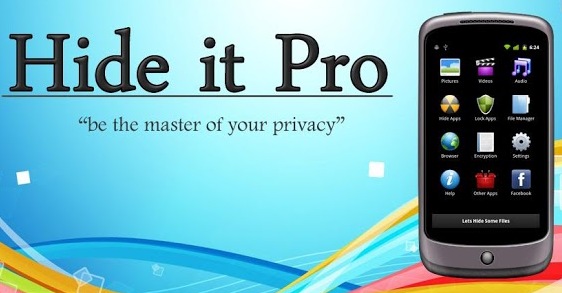 As we mention above the app is available for all iOS and Android device. Install the app on your device and enter the password in the app to protect you files. After that you can pick photos and videos from your media gallery on your iPhone and android.
Now select the files, images and video that you want to protect with others. Create folders and then place all the photos and videos accordingly. This way you can secure all your files with a password.
Some Best features of Hide It Pro App
1. Hide photos and videos in the app with a secure password.
2. Move the files from one folder to another from within the app.
3. Unhide photos/videos back to your phone gallery.
4. Automatic locking when you exit the app.
You can download the Hide It Pro App from Itunes store and Google play store. So try this app on your device and secure all your personal data easily.
Download Hide It Pro App for iOS Devices
Download Hide It Pro App for Android Devices