Google Play Store has lots of free android apps available for android mobile phones and tablets. Most of these free apps are supported to latest Android 4.0 code named Ice Cream Sandwich (ICS) build. So today here we present you our hand-picked list of the best free Android applications around. Most of them are must have app for your android phone and tablets. So check out the list of top free android apps below.
List Of Top Free Android Apps
If you are a Facebook user, then it's a must have for your android device. Allows you to connect with your friend and family easily. Share Photos, messages and stay connected with your friends with the Facebook for Android app.
One of the best messenger app available for android devices, With the free app you can send and receive messages, pictures, audio notes, and video messages. First year FREE!. Try this app and send free SMS to your friends.
Best launcher app made by Go Dev team, one of the most popular launcher application of the Google Play store. Allows you to use thousand of free themes, various widgets and screen locks. Allows you to customize your home screen easily.
4. Skype – free IM & video calls
If you are Skype user then this one is the must have for your Android device. Allows you to make free Skype-to-Skype video calls, call phones at Skype rates, send pictures, videos and files to any of your contacts. So enjoy the app on your phone and enjoy the video calling with your friends.
5. File Manager
Best way to search files on your android phone, also allows you to move, cut, copy and rename the files. Full featured file manager on Android, fresh UI design and user friendly functions. It give you the option to search and share files from your android.
AVG is one of the popular Antivurs app on the web, now it was also available for the android devices. Automatically detects harmful Apps & SMS on your mobile phone and helps you to protect your phone from viruses, malware, spyware & online exploitation in real-time.
Best office suite with lots of feature, which are really useful to nay Android Phone user. Allows you to open and view Word, Excel, PowerPoint and PDF documents on you Android phone. With the app you can view email attachments and share documents via email or Bluetooth.
8. YouTube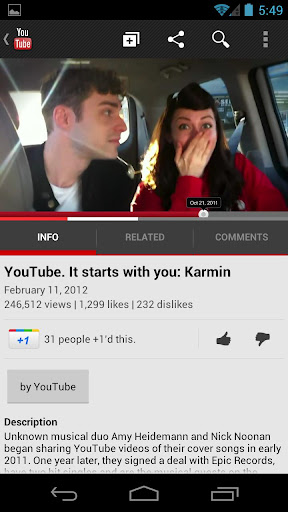 YouTube a free app for android phone has some new and advance feature which allows users to search and play video easily on android device. So install the app now from Google play store and experience the latest and best version of the official YouTube app, which offers beautiful new UI design and in-page playback (read comments while video is playing!)
9. Instagram
One of the popular app in Itunes store, now available for android device too. If you love to click pictures from your phone, then Instagram is must have app for you. With the app you can click the pic and add several gorgeous filtered effects to your mobile photos. Also allows you to share those pictures to your friends vial email and also post them to your favorite social networking site.
10. Google Drive
Recently Google launched the new Google Drive to store your files on the Cloud, so you can access them anywhere with your Login ID and Password. Now the app is also available for the android. Use the Google Drive Android app to access your photos, documents, videos and other files stored on your Google Drive.
That's it, all these free android app are must have app to all android phone users. Hope you like them and do try these app on you android mobile or table and share your thought about the app in the comments.