Few days back Google ban lots of self updating application from the Google play store which are infected with BadNews malware. Now the question is how to protect your Android phone or tablet from these malware attacks. The best and safest way is to install the security application on android device to scan these attacks. Lookout Mobile Security is one of the most popular application from iOS app store to make your smartphone Malware-Free. Now the Lookout Security & Antivirus is also available for the android devices, a must have application to all android users to keep the android device free from these malware and viruses.
How to stay safe with these attacks and viruses, always make sure the Android system setting 'Unknown sources' is unchecked and never download the android application or file from some warez sites or torrents site. Always use the Google play store to download and install application on your device. To add more security layer on your device, download a mobile security Lookout's app that protects against malware as a first line of defense.
One of the free and and best antivirus and security application for the android users. It works same like the PC antivirus application, it protects your phone from malware and spyware attacks. The best part of the application is that its free, lightweight and only consumes the amount of battery power in one day as a 33 second phone call. Also helps you to detect and remove viruses and spyware that can hide in apps, email attachments, or phone files.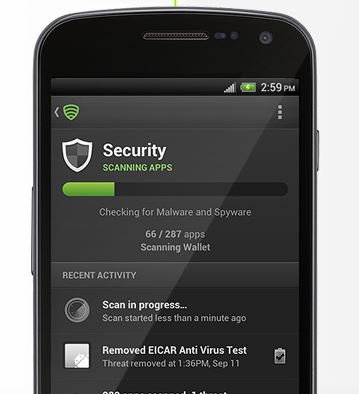 You can run the antivirus manually on your device and scan any files with a single click or you can schedule antivirus scans with weekly/daily options for constant virus protection. There are tons of security application are available on Google play store, but Lookout is one of the best and lightweight and doesn't take so much space on your device. Wait the story doesn't end here, The application has some other good feature to that you love to use on your device, One is find my phone and second is Backup and restore.
Find my Phone feature helps you to locate your lost or stolen phone on a Google map, you can send sound alert to your device, even if it is on silent, remotely enable GPS to help you find your phone even if GPS is turned off. Another good and helpful feature of the application.
Backup and Restore, with the help of this feature you can backup your android contacts over the air as often as you schedule it. So next time when you lose your contacts or deleted contacts by mistake, you can restore all you contacts easily from the Lookout servers. These are some of the best feature, that make the lookout number one application in security.
You have to must download this application on your device from the Google play store, to add more security on your android smartphones. Once the application is installed on your device, you don't have to worry about the viruses and spyware attacks on your device.
Download Lookout Security & Antivirus Android App