Most of the Android users like me are facing the battery problem on their mobile phone. If you are not facing that problem on your Android device than you a luck guy. But most of the users complains about the same problem most of the time, that the battery life of Android device is horrible. The main reason of bad battery life of the android device are more powerful processors, bigger screens and more memory.
But now you can solve the battery problem on your Android with using some of the android apps, which allows you to increase the performance of your android battery life. There are lots of app are available on Google Play store which helps you to do the same. So here are list of some of the best app that we collected form the Google play store.
Apps to Save Battery on Android
One of the best and most downloaded app from the Google Play Store, the app is the powerful power manager app for your android device. The free app is specifically designed to extend battery life and optimize using habit. One of the effective solution to save battery life, Save more than 50% battery and easy to use.
2. JuiceDefender – Battery saver
A Complete solution to to save battery life, app offers you lots of features and tools. It helps you to consume less power on mobile and keep your battery drain in check. Neat and clean app, and ray to optimize the battery performance. Once configured it runs by itself, improving battery life in a fully automated manner.
3. Battery Dr saver+a task killer
Allows you to adjust all your power settings of your android device. Show battery health, temperature, talktime, kill tasks quickly etc. Powered with lots of new features which helps you to kill running tasks, adjust screen brightness(volume), turn off wifi, gps, bluetooth, Auto-sync etc.
As the name says One Touch Battery saver, the app works like the same. All you have to "Power saving" mode to activate the battery saving mode on your device. It also shows you the of your battery life and the usage of the battery. With the help of free android app you can Switch & manage Wifi, bluetooth, GPS, background light, sound, synchronization in one touch, saves battery with efficiency.
5. Battery Defender-Battery Saver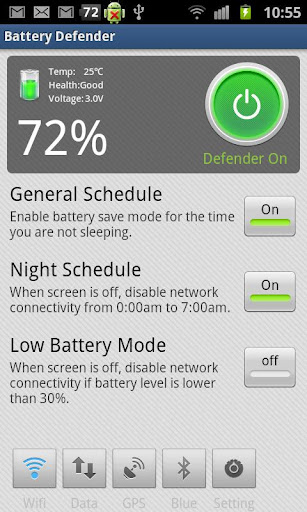 Easy to use app on you mobile, after the installation the app is automatically enable on your device. It shows you the battery percent in the notification bar. Automatically disable WiFi and data connection after you turning off your screen(with 15~20s latency), in this way you can save lots of android battery.
I have used all these app on our HTC one X and Galaxy S III and all of then works fine on our device and works like a charm. They'll helps you to increase the battery performance of your Android Mobile. Have some more tips? Let our readers know in the comments section below.