Smartphone are really helpful these days, they are not only for browsing, Video calling or Playing games. Now can take your work with you, for these you need some of the best office apps for your Android mobile. Which helps you to do several office task on your Android Mobile. Android Market (Google Play) has tons of app which helps you to carry and take care of of your work when you are on the go.
There are a variety of office apps are available for Android devices that give you access to documents, spreadsheets and presentations. So here are our top 5 Office app for Android users are which are really helpful.
List of Top 5 Office Apps For Android Users
1. Google Docs (Free) :-
Google Docs is must have app for android users who are looking for the free office app for android mobile. It has lots of feature which helps you take care of you office work. With this app you can view and edit text, spreadsheets, slideshows and PDFs stored on your Google Docs account.
And also make quick changes to spreadsheets and upload and convert files to the Google Docs format.
2. DropBox (Free) :-
No need to carry all your important files on your USB and any Storage device. With the Help of Dropbox Free Android app you can access your files from anywhere. For this you have to create a free Dropbox account and move all your important files there. So you can access them from anywhere from your Android Mobile.
With the Dropbox app, you can take everything that matters to you on the go. You can save all your photos, documents, presentations and other files on your Dropbox account and share them with friends in just a couple taps.
3. Vlingo (Free) :-
Vlingo is another free office app for android users, its like your personal assistant like Apple Siri. It helps you to do your task easily and fast. It will help you to send SMS and text email on your voice command and also help you fine the Find local restaurants, shops and other businesses. It will helps you as your personal assistant just give here a voice command and it will do that work easily and so fast.
4. Quickoffice Pro :-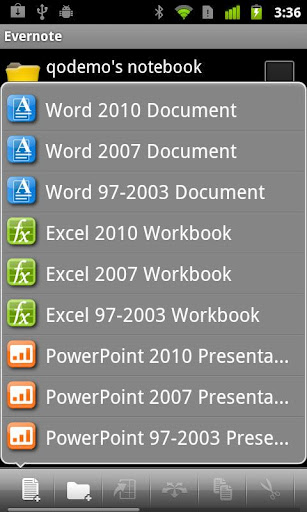 One of the best app that we recommenced to use, it not free but have lots of feature which helps you to your tasks easily. It allows you to create, edit and share Microsoft Office files. Also help you to load your documents stored on Box.net, Dropbox, Google Docs, Huddle, MobileMe or SugarSync.
5. Sugarsync (Free) :-
Free app to take backup all of your files on Cloud storage, so you can access them anywhere anytime easily. With SugarSync, you get free cloud backup that you can use to sync files, share folders, and access your data directly from your Android device. You can sign up from the app and get 5 GB of free online storage.
So these are best office app for your android device that you can use and complete you office tasks easily on your android phone, Hope you like it, if you have any suggestion in your mind, do let us know by leaving the comment below.