If you have accidentally deleted some important contacts from your Android device, don't worry you can restore deleted contacts in Android. It happens to most of us when we accidentally delete some contacts from Android device, but fortunately there are ways to get these lost files back. If you have the backup of the contacts, then you can restore all those deleted contact from the backup file. We always recommended to all readers that always take the full backup of your android device, here are some of the best and free android backup application.

If you are not using any application to take the backup of your phone contacts, then there is other way which helps you to restore your deleted contacts. You can use your Google account to come out of this situation, below is the guide which helps you to restore android contacts from Google.
How to Restore Android contacts from Google
In Android device you need a Google account to use many application play store, gmail and other. So without Google account it is not possible to access all these apps on android phone. To restore your contacts login to Gmail with your Google account login ID and password. Now from the gmail go to your Contacts section, you can find the contact option from the top left side. See the screenshot below:-
Now you are on the contacts page, From the More actions drop-down menu, choose Restore contacts.
Now a new windows will open on your screen asking you from when do you want your contacts to be restored and you can go as back as 30 days. From here you can also select the custom dates, Once you have selected your restoration point. Click the "Restore" button to restore contacts on your Google account and your contacts from that time will load on your Gmail account. You'll see a confirmation at the top of the screen when the rollback is complete.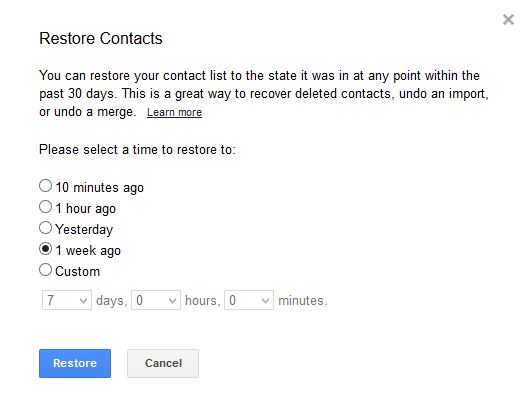 Now you have restored the deleted contacts on your gmail account, now all you have to do is sync all these contacts on your Android device. Go to Android Settings > Accounts > Choose Your Google ID and sync contacts. That's it, you your deleted contact is restored on your device.