Time to time smartphone need some optimization to enhance its performance. In which you have to clean your device, remove unwanted apps, clear temp files and lots of stuff. With this way you can improve the speed of the your Android device and helps your device to run at optimum speed. Thanks to Google play store, from here you can find lots of free android application which give you the features like clean cache files, history cleaner, Task killer and more. But today we found a powerful app called All-In-One Toolbox (21+ Tools), the app has the mixture of 12 awesome tools which are really useful to your android device.
All-In-One Toolbox (21+ Tools) is one of the best optimization and cache Cleaner App. It gives you so many option and a nice tool to clean up your android device. All In One Toolbox android app has pretty much everything you need for your Android cleaning needs. You can download this application on your device from the Google play store or you can find the download link at the end of this post.
On the first screen of the app you can see the info of your device that how much Memory your phone using and how much space is free on your device and some more info about your android battery. Next tab on the app is process tab in which you can see the list of application and programs that are running on your android, from this list the you can kill the unwanted process to free up some of the memory on your device. See the Screen Shot below:-
On the last tab of the application "Tools". You can find some of the best tools to optimize the performance of your android mobile or tablet. The tools section has 5 different categories System cleaner, SD card Manager, Package Manger, Startup manager and Plugins. In each categories you can find lots of tools. System Cleaner has some awesome tools to clean cache files, history cleaner, Apk Cleaner and more. Form here select any tool with one click and application will clean all the unwanted files and data from your device.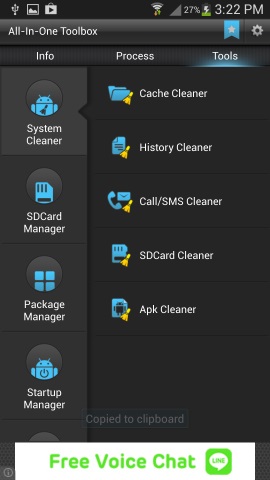 SD card Manager allows you to transfer you apps from phone to SD card and also has the file manager to see all the files at one place. Some other tools on the application are Start up manager to boost the performance of your device, backup and restore tool to backup your application on your device or SD card. Overall the application is powered with lots of useful tools to optimize the performance of any android device. You have to must try this free application on your android device to tweak your system performance.
Download All In One Toolbox Android App