Finally Reliance Announced the JIO 4G Services. Most of the phones user are waiting for fo this announcement and want to know about the tariff plans of JIO 4G services. Today company revealed the JIO 4G Tariff plans. The company will not be charging for voice calls at all, and it will cost a tenth of what its competitors are charging for 4G data. Yes, you heard it all right all the calls are free fro lifetime and all you have to pay Rs 50 for 1 GB data. Jio will charge only 5 paise per MB, or Rs. 50 per GB. That's Impressive. Hmm, now that's a huge competition to other networks like Airtel, Vodafone, etc.
Jio services will become available from Monday, September 5, absolutely free for everyone for a month, including voice, apps, 4G services — to be available for free to everyone starting September 5th to December 31, 2016. To get the sim all, you need an Aadhar Card and within a 15 min your sim will be activated.
Not only this the company also announced the student discount, students, to get 25% more data. Also, Jio is rolling out fibre-to-the-home wireline network very soon. Apart from the data rates, Jio announced that the full suite of Jio apps – for streaming movies, music, and live television – will be completely free for all users until December 2017.
JIO 4G Tariff plans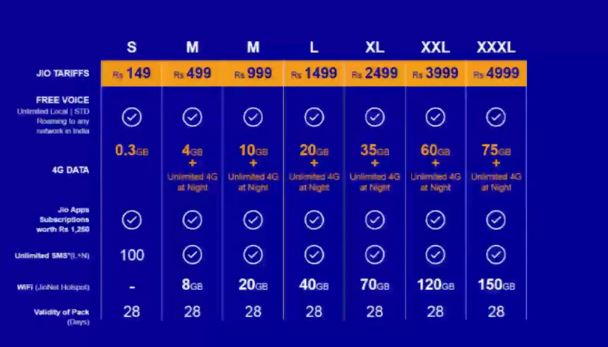 How to Get the Jio SIM free
Visit any Reliance Digital, Digital Xpress, or DX Mini store from September 5 and get you free JIO sim. All you have to submit your Aadhar Card to activate the sim.