MIUI 8 is officially available for the Xiaomi phone, and most of the users can't see the option to change the System Fonts on the MIUI 8 ROM. Here is the full and working guide to Change Fonts on MIUI 8 without Rooting. Yes, you heard it right now need to root the phone. All you have to make some changes on your phone and install some application from the Google Play store. If you recently update your Xiaomi phone with the latest MIUI 8 and enjoying the new features of the ROM and want to change the fonts on your Xiaomi phone. Let's take a look how to that in an easy way and set you favorite fonts on the phone.
This guide will work on both rooted and non-rooted MIUI 8 phones. We tested all these steps on Redmi Note 3 MIUI 8 and Mi 4. Read all the steps verys carefully and folllow all the steps.
Register for MIUI Theme Designer Station
Visit this link and Use Your Mi Account to Login to register on MIUI Theme Designer Station. Select Bounding Account Type As Individual Designers and fill all the details.
When it asks you to fill in bank card information, Skip it And Then Click on Button Accept Agreement and Register. Now It will send your email when the verification is done! And now you are ready to change the fonts on your phone.
Change Fonts on MIUI 8
1. Open the Google Play store on your phone and install two applications. QuickShortcutMaker and ifonts.
2. Open QuickShortcutMaker App on your phone and scroll down & tap on Settings.
3. Scroll more & tap Settings w/ Font.
4. Now Click on Tap to change label and rename it to Fonts.
5. Now Tap on Create Button. And you will see the new app icon "Fonts" on your home screen.
Phase 2 to Install the Fonts on MIUI 8
6. Now Open iFont App. Choose any font you want from the list and download it.
7. Now A new THEME Button is Started Showing On the Top Right Corner of the screen. Tap it > OK > OK.
'
8. Now Open the Themes application on your phone and tap on the Offline.
9. Now from the next page, tap on Import and Navigate to the Location Shown As Below. And import the font.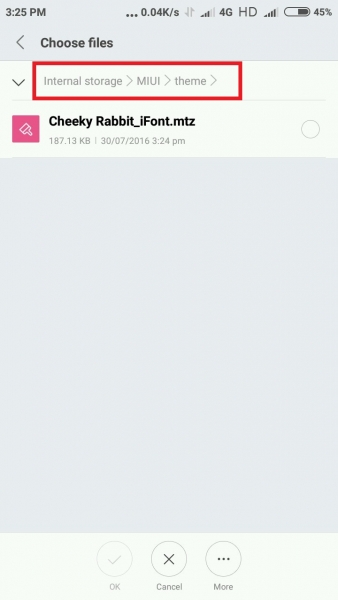 10. Now open the Previously Created Shortcut "Fonts" from App Drawer and Tap on System Fonts.
11. Now from the next page. Select the Fonts > Apply and Reboot.
Now Your Device will Reboot & Sets the New Font in Whole MIUI 8 System UI. Enjoy.
Video Guide to Change fonts on MIUI 8