Android is one of the most popular OS these days and you can find lot of free and paid android application on Google play store. On play store you can found lots of application for your android smartphone for your daily needs. On play store you can find all kinds of different apps for your mobile and tablets. These include, Apps, gamers, utilities, Book readers, social networking apps and more. All you have to download these application on your device and you enjoy all the features of your device easily. But most of the people are looking for the way to create these application and don't know about the Android so much. If you are on the same boat and want to create free android apps and doesn't know how to do that. No need to worry there are lots of free website which give you the option to create your won android apps free.
So today in this post we give you the list of some of the best and free websites to create free android apps. All these website are free to use and helps you to create you first android app in simple steps. No need to use any other tool or coding to create free android application. With the help of these website you can create a android application for your blog or website.
Free Websites To Create Free Android Apps
One of our favorite website to create free android application in a few minute. The interface of the website is neat and cleans, easy to use guide. On the website you have to select the application which you want to create and you find lots of free template and icons for your application. All you have to follow the onscreen instruction of the web site to start building your android app. Once the Android app is created you can easily share your application on other websites.
2. App.Yet
Another nice and cool site to create android applications, best website for the blogger and website owner to create free application for your website. No programming knowledge required, all you have to enter the details of your website, blog or your social media channel to create the application with the helps of this website. To create Application for you blog all you need links to Rss/Atom feed or website. After that you can sell or publish your app on Google play store
3. Apps Geyser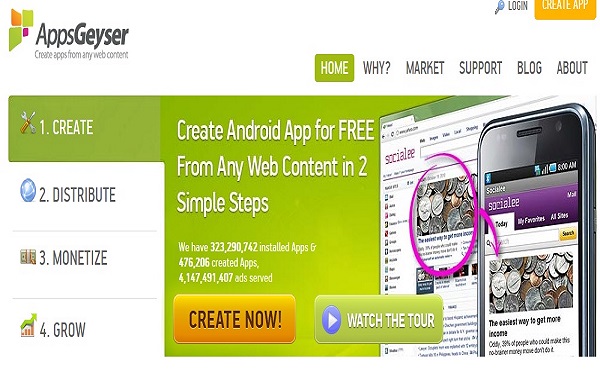 One of the popular website to create free Android application online. Not only it allows you to create your won app, but also helps you to grow your app, monetize it and distribute to other networks. Also advertising money can be earned by creating apps through this website.. Easy to use service that converts your content into an android App and makes you money.
There are other website also which allows you to create android app, but these are some of the best which we found on the internet and all of them are free to use. This way you can easily develop and create free Android apps with the help of these websites