Android Pattern unlock in one of the best feature to lock your device. But what happens if you somehow forget that pattern. So how to unlock you device without using unlock pattern. Yes you can unlock it with following some simple step. Today here we will guide how you can unlock your Android if you forgot the unlock pattern of your android smartphone. Follow the step below to unlock your device.
How to Unlock Android Pattern with Google Account Username & password
If pattern was wrong 5 times and then it locked, Now you can see the new option next to emergency call on your lock screen Forgot Pattern.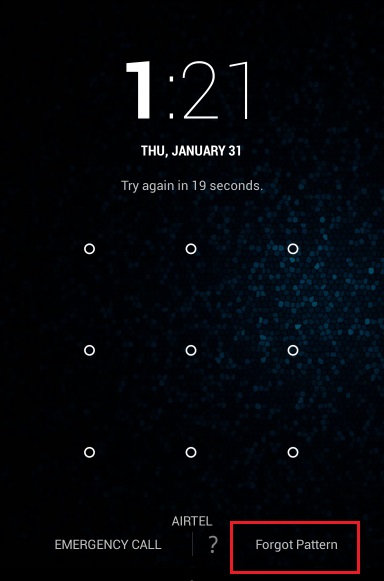 Click on the Forgot Pattern option on your device, now the new screen will displays where you have to enter Google account ID and password to unlock the pattern of your mobile.
Now enter you Google login and password details to unlock your device from Pattern unlock. Even if Data connection or Wi-Fi isn't enabled on device, no need to worry. Just fill up the details and your mobile device will be unlocked. This happens because device stores account details offline.
How to Unlock Pattern Without Google Account
Here is the second option for those users who don't remember the Google account and password or didn't use Google Account on Android. You can do this easily with Factory reset. Note- With Factory reset option will delete all your settings and apps on your phone, SD card data will be preserve so worry not.
If your Phone have the physical Home button – Power of the device, after that Press Volume UP+Home+Power button at a time until the phones logo screen is displayed. When the phone's logo screen is displayed, release the Power button but continue holding the Volume + home button until the Android System Recovery menu is displayed.
Phone Without Physical Home button – Power off the device, press and hold the Volume Up, Volume Down and Power buttons together until the green Android icon pops-up on the screen.
With this way you can enter in to the recovery mode of your android device. Now select the wipe data/factory reset option. Moving the selection up and down is done with the Volume Up and Volume Down buttons. Once you have the wipe data/factory reset option highlighted, you select it by touching the Home button or Power Button (Depend on the device).
This process will take some time after that select reboot system now. That's it now you done. You phone will now reboot back into normal mode.