If you have the high speed internet on your home and want to use the same on your android device without WiFi Connectivity. Yes it is possible with the Android Reverse Tethering method. Let me explain you what is tethering, Tethering is the ability to surf on your pc using the 3g connection of your android device and Reverse Tethering is opposite of this, with Reverse Tethering you can surf on your phone using the internet connection of your PC. Why you need this, suppose you have the High speed internet connection on your home but your router doesn't has the Wifi Support then you have to use this method to surf internet on your Phone with the help of USB. These days broadband connection is much cheaper than the mobile data plans and with the help of Reverse Tethering you will enjoy the PC connection on your android without paying the huge data plan bills.
In this article I will show how to use Desktop Internet Connection on Android through USB. The guide is simple and only takes a few minutes to setup your device and PC. All you need a rooted android and a Reverse Tethering application for your desktop. If you don't have the rooted device and looking for the way to root your phone, then you will find lots of free rooting guide here.
How to Use PC Internet Connection on Android
Step 1. Download the Android Reverse Tethering Application on your desktop and extract the folder on your desktop.
Step 2. Download and install latest Android USB driver on your PC.
Step 3. Enable the USB Debuuging on your rooted android. How To Enable USB Debugging Mode in Android Devices
Step 4. Disable the SuperSU notifications from your rooted device, else you will see constant notifications.
Step 5. Connect your phone to the computer with USB cable.
Step 6. Now open the Android Reverse Tethering folder on your desktop and run the AndroidTool.exe on your desktop.
Step 7. The will automatically detect your device in the 'Select a device' column. If not showing your device, do refresh.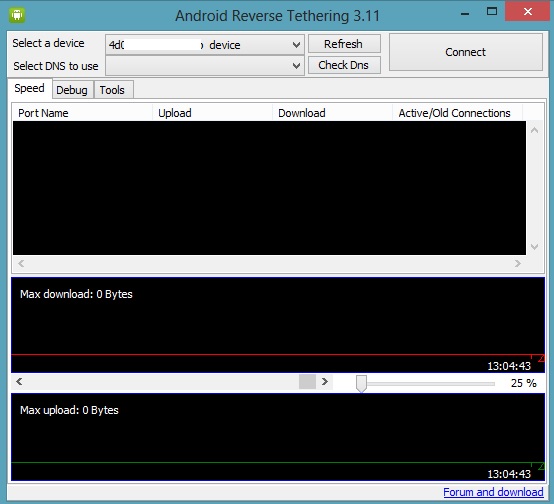 Step 8. Now from the application click on the connect button to start the servcie, It will connect your device with PC and install required files.
Step 9. Now SuperUser process may ask you to allow "Usb tunnel". Tap on the Allow button.
Step 10. Now your android is connected with the PC internet connection and you can start browsing and open apps from your Android directly.
We tested this application on our rooted Galaxy S 4 and the application works without any problem. Hope this article helped you to learn how to use the PC connection over your android device. If you face any type of problem with the tool, let us know through the comments.