Recently, HTC released the new HTC one in the market. After that most of the android developers are working on tools to root HTC one, unlock HTC one bootloader and to install custom rom on the new HTC one android phone. To root your HTC one and install custom rom on it, first you have to Unlock HTC bootloader, without doing this it is not possible to root your device. In simple words we can say that without unlocking the bootloader you can't enjoy the benefits of rooting on your device. So today in this guide we will show you can unlock the HTC one bootloader easily. Just follow the guide step by step to complete the process on your new HTC one android phone.
Disclaimer: Follow this guide at your own risk. Tothemobile.com won't be responsible in case your device gets damaged in any other way during the process.
How to Unlock HTC One Bootloader
Before following this guide download the below mention files on your Windows Desktop and do take backup of your device with these backup applications.

a). Download and install the HTC Sync Manager on your desktop
b). Download Fastboot zip file for your device from this link and extract the contents into a folder named Fastboot.
Now lets start the guide in which we will helps you unlock the bootlader of your android phone. Remember this method is only for the HTC one, don't try it any other device.
Step 1. Make sure the device is fully charged and enable the USB debugging mode on your device.
Step 2. Now go on your Windows Desktop and visit htcdev.com on your favorite browser, on you on the HTC website from here register a account to start the process.
Step 3. Once the account is crested, Login to the htcdev website with your User ID password. Now go to this page Unlock Bootloader page and select the option 'All Other Supported Models' from the drop down menu. See the screenshot below:-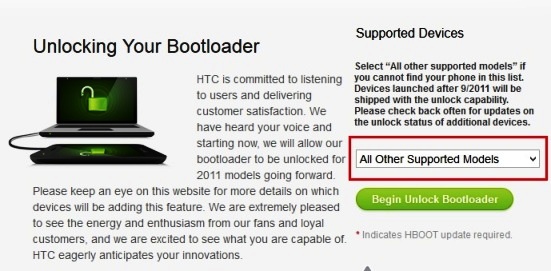 Step 4. Now Click "Begin Unlock Bootloader" and confirm all dialogue boxes on screen and follow all the onscreen instructions. After following some steps it will ask you to disconnect mobile from the PC if connected and then switch off the device. Then press Volume Down button and Power button to start the device in Bootloader mode. Once your device is on bootlaoder screen, after that follow thee below mention instruction carefully.
Step 5. Now this again you have to connect your HTC One to your computer via USB cable. Now go to you desktop and open the Fastboot folder that you saved on your desktop from the above mention link.
Step 6. Now you are inside the Fastboot folder, from here hold the Shift key from your desktop keyboard and at the same time right click on the free space. Select the option 'Open command window here'..
Step 7. Now you can see the command promt windows on your desktop screen and it appear like '..\Fastboot>'. See the screenshot below:-
Step 8. Now enter this command on the window fastboot devices and press enter. If your HTC one drivers are installed correctly, then your HTC One should show up in the command prompt. If your device shows you can go ahead with the next step.
Note: if you don't see your device, don't panic, reinstall HTC Sync Manager, restart your computer and try again.
Step 9. Don't close the command prompt windows and go to the third page of instruction in htcdev by clicking on 'Proceed to Step 8' button.
Step 10. Follow the listed steps all the way to Step 10 and click on Submit. Now you can see the message on your Browser that 'Token Submitted Successfully!' and the Unlock Key information is emailed to you.
Step 11. Go to your email box and download the token key 'Unlock_code.bin' on and save it on your Fastboot folder that you saved on your desktop.
Step 12. Once the Toke key is saved on your fastboot folder, go back to the command window and enter the following command: fasboot flash unlocktoken Unlock_code.bin and hit enter.
Step 13. Now you will get a new message on your HTC one android phone that if you want to unlock your bootloader. Use the volume keys to select your choice, and hit the power button to confirm. Once you're done, your device will restart and you'll have an unlocked bootloader.
That's it, now your device is unlocked and you can root your device and install custom on your device, Do check our guide How to Root HTC One & Install Recovery – Simple and Easy Guide