These Days smartphone's are the best selling gadget's, because they help you to mange all your daily tasks. You can use your Smartphone as a organizer, an e-mail device, a cell phone, or all of the above, getting a smartphone is smartphone. There are lots of smartphone are available in Indian market, so here we have the top 5 smartphones currently available in India.
Here are the List of Top 5 Smartphones In India
1. Apple iPhone 4 :-
iPhone 4 is sleeker and stylish smartphone in india, The iPhone 4 is capable of performing various functions faster and is available with two memory options 16GB and 32GB and lots of features like 5 megapixel camera, HD video, and improved performance. And in the App store you can Browse thousand of App and Games. Performance wise it is one of the best Smartphone available in India. You can purchase the iPhone 4 from Airtel and Aircel Stores.
2. Samsung Galaxy S2:-
Samsung Galaxy S2 is Samsung's most advanced and successful smartphone to date. The Galaxy S2 is a premium Android based handset that will also battle arch-rival LG's recently launched Optimus 2X. It is marginally expensive than the Optimus 2X and about Rs. 2000 cheaper than the entry level iPhone 4. The Samsung Galaxy S II's screen has a resolution of 800×480, so it can't quite match the iPhone 4?s 960×640 "retina" resolution, or the qHD resolution (540×960) of the Motorola Atrix and the upcoming HTC Sensation.
3. HTC Sensation:-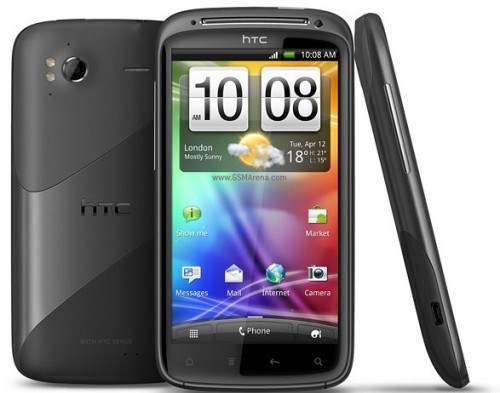 With its excellent design and user experience, coupled with its solid performance, make the HTC Sensation 4G one of the best Android phones yet. The Mobile device features a 4.3-inch qHD display, dual-core 1.2GHz Qualcomm processor, an 8MP rear facing camera with a VGA front facing camera, Android 2.3.
4. LG Optimus 2X:-
LG Optimus 2X which is the world's first Dual Core Phone Launched in India. The LG Optimus 2X P990 sports dual-core 1GHz Nvidia Tegra T20 System on Chip processor and will come with Android 2.2 Froyo by default. The Optimus 2X is a pretty well-speced handset with a 4 inch display, 8 MP camera with 1080p (full HD) video recording, 512 MB RAM, 8GB internal memory, HDMI.
5. BlackBerry Bold 9780:-
BlackBerry Bold 9780 is powered by the BlackBerry 6 operating system, delivering an approachable experience that's powerful and easy to use. The BlackBerry Bold 9780 upgrades the Bold 9700 by a 5 megapixel shooter. Additional features of BlackBerry 6 include expanded messaging capabilities with intuitive features to simplify the management of social networking and RSS feeds (Social Feeds), and integrated access to BBM (BlackBerry Messenger), Facebook, Twitter and various instant messaging applications on the BlackBerry Bold 9780 smartphone.
Don't forget to Subscribe to our feed and Follow us on Twitter or Facebook for updates.