In an android device you can store lots of your data like images, video, files etc. Most Android devices have two different storage space, Internal drive and external drive. In these drive you can store all your personal files, but this will take so much space on the android and after some time you are running out of the space. And now you can't even take a video or a photo, because your phone says it's full. If you are facing the same problem on your device then here is the guide which will help you to recover lots of space on your phone or tablet.
Recently Piriform released the beta version of Windows app CCleaner for the android device, current the app in beta stage but one of the fastest and safest way to cleans junk files and cache from the device. The app helps you to know which apps are taking so much space and what files are covering lots of space on your android and helps you to clean those unwanted files. To download this application on your device all you have to join the beta program of the app and after that you can use it on your device.
Read Also: Recover Lost or Deleted Contacts on Android with Android Recovery
Read Also: Recover Memory and Storage on Your Android Smartphone
Once the app is installed, run the app on your device and on the very first screen of the app you will see the total storage space of the device. At the end you will see the "Analyze" option, tap on the button to analyze the space of you device.
Once the scanning process is done on your device, you will see the list of the cache files, browsing history, call logs and other files. To cleans all these unwanted files select one by one on your device and tap on the "Clean" button.
Now the cleaning process will start on your device. Once the process is done you will see the result of the cleaning process on your device. Most of the junk files are removed from the device and you will see the recovered space on your device.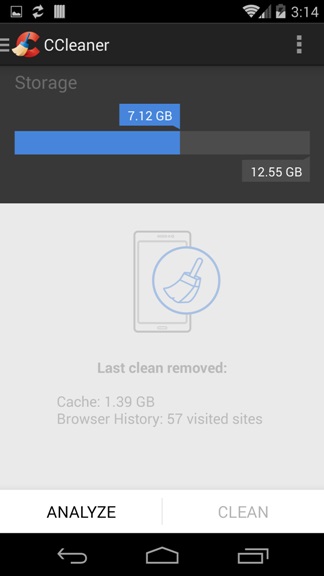 Download the CCleaner Android App here