If you are serous about magic tricks and want to impress with your friend some cool and new Magic tricks, but don't much more about the tricks. Don't worry, now you can learn lots of new tricks easily on your Android smartphone with the help of some free android applications. Google Play store has plenty of free application which you will use on your phone, today here we present you the list of some of the best application which you will install on your device and learn so many basic of magics and create you own tricks. The application are easy to use and one of the best and quickest way to try hand on some useful tricks like card tricks, coin tricks, Paper tricks, mind trick and lots more.
All you hvae to do is install these app on your device and check out the tutorial on the application to try your hand on new tricks. So lets take a look of these application and learn some basic tricks very quickly.
Free Magic Application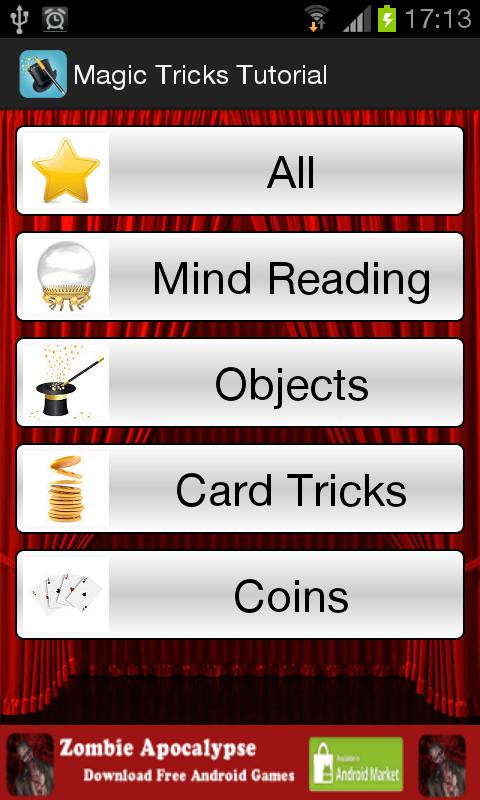 A Free application to learn awesome magic tricks in no time. The application explains the basics of magic tricks with some visual guide which you will follow on your home. All the guide are easy to understand and here you will find some of the most popular tricks.
My personal favorite application to understand the tricks. The application some of the newest tricks which you haven't seen before. All the tricks are performed by some of the best magician in the world such as David Blaine, Criss Angel etc. Each trick includes a step by step instruction, some of them are very well written and also you will find some video's to learns basic.
On Television shows you will see lots of card tricks, which you want to try but most of the time you fail and don't know how to do that. Now you will learn all the card trick on your android smartphone, install the Card Magic Tricks application and impress your friends with some cool card tricks. The app will teach you some cool magic tricks you'll love to show.
The application offer some of most famous coin trick that you watch on magic shows and television shows. One of the best application to learn some cool coin tricks with step by step instructions.
A cool application for the learner with lots magic tips and tricks. The app has lots of video's guides and instruction to learn magic. Here you will some of the best trick guides like How To Shuffle cards like pro, Magic Tricks With Coins, Rope Trick etc.