Google Play store is one of the most popular app in the androdi phone. Without it, you can't install your favorite applications and games on your Android phone. But in Chinese Xiaomi phone you can't find the Google play store app, and so you can't enjoy the other Android apps on your phone. If you imported some Xiaomi phone from the China and want to install the Google Play Store on your MIUI 8 phone. Here is the step by step guide which you can use on your phone and setup the Google Play Store on any Xioami phone. The Chinese ROMs are different from the International ROMs in that they lack the Google Play Store. To flash the Google play store on your phone all you have to download one apk file on your phone and install the same.
Luckily, installing the Google Play Store on MIUI does not require a custom recovery or even root. The process is very simple and all it take a few minutes to download the Google Play store on MIUI 8 Xiaomi phones. So let take a look how to that in a simple way.
How to Install Google Play Store
1. Download the apk file from the above mention link and save the file on your internal phone memory.
2. Now enable Unknown sources on your phone's settings. Go to Settings > Additional Settings > Privacy and checking the box next to Unknown sources.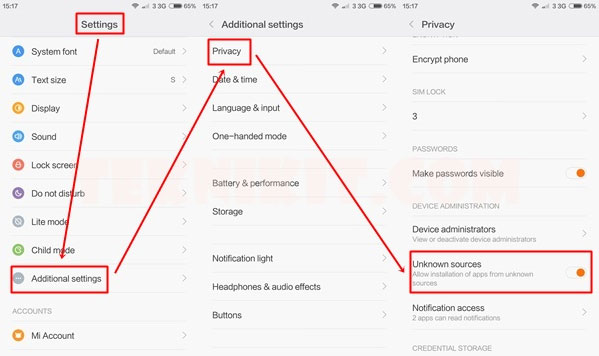 3. Now open the Explore app on your phone and locate the Google Installer apk file and tap to start the installation process.
4. All the required Google apps and services, as well as the Google Play Store, will now be downloaded and installed one by one. And this process will take 10 to 15 minutes.
5. Once completed. Reboot Your phone.
Now you will see the Google play store icons on your Xiaomi MIUI phone. Now you can install your games and apps on your Chinese Xiaomi phone.