Most of the Android users are aware with the Root method, once you rooted your phone you will enjoy lots of custom ROMs on your android phone and tablets. All these Custom ROMs comes with different pre-installed apps. Most of the user don't like most of these application in ROM and don't want to install those application on the device. To install and uninstall these application are not possible without flashing the ROM on Android. If you are looking for the easy way to customize the the Custom ROMS, and want to remove some per-installed application from the ROMS. The you hvae to try a APK Swaper tool, which allows you remove all the unwanted application from the Custom ROM or Stock ROM from the desktop, or you can also add your own apk files on the Custom ROM. It will also unzip and re-zip your custom ROM, making it a truly end-to-end process. In the following tutorial, we show you how to get the most out of this beginner-friendly tool. In simple word we can say that a must have application to add your own apps to the ROM and delete the unwanted files from the ROM.
How to Use APK Swaper to Customize ROMs
First download the APK Swaper application on your desktop, you will find the download link at the end of this post. Once the file is downloaded on the desktop, extract the folder on your desktop and run the APK Swapper.exe.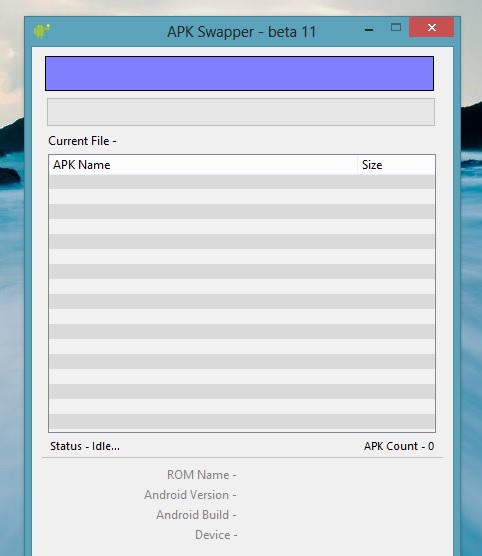 Now locate the ROM that you want to modify with APK Swaper application. You can find and download lots of Custom ROM for your device from XDA forum. Once the ROM is saved on your desktop, Drag and drop the zip file into the blue bar inside APK Swapper application. Now APK Swapper will automatically unpack all the files of the ROM and this will take some time upon the sizer of the ROM.
Once the process is finished, you will see the list of all the apk files that comes with the ROM. See the screenshot below for more info.
From this list you can easily uninstall the applications from the ROM. Remove only those application apk file which you don't want in the custom ROM. Deleting the wrong apk can make a ROM virtually useless/ To remove right click on the apk file and select Delete apk.. With sam Way you can add apk files from your desktop to the custom ROMS. Locate the apk file on your computer and APK Swapper will inject it into your ROM.
Once you're done with add and remove process and ready for flashing. Right-click within APK Swapper's list section and select .ZIP options followed by Compile new .ZIP Rom file. Enter a name of new ROM and select a location for your zip. APK Swapper will do the rest.
Now you a re ready with your customize ROM and you can Flash the ROM on your phone. So this way you can easily add and remove applications from the Custom ROMs. If you are facing some problem with the application then head over to the original thread of XDA here
Download APK Swaper Application here