Are you looking for the best and free comic application for your android smartphones or if you are the comic fans like Marvel Comic, DC comics etc and want to read all you favorite comics on your android phone or tablet. Today here we've listed 3 best and free comics apps for android devices which could be very useful for comics lovers. With the helps of these free application you can read lots of free comic on your smartphone without paying a single penny. All these application are free to download and work on all the android devices. All you have to do is install these free apps from Google play store and you can enjoy all you comics at one place. If you love reading comics, must check these useful apps and install them on your device.
An official app from DC comics, here you will read all your favorite DC superhero comics like Batman, Wonder Woman, Green Lantern, Superman, TheFlash and lots of other free comics. In the application you will find lots of free comics which you will read in on your smartphone.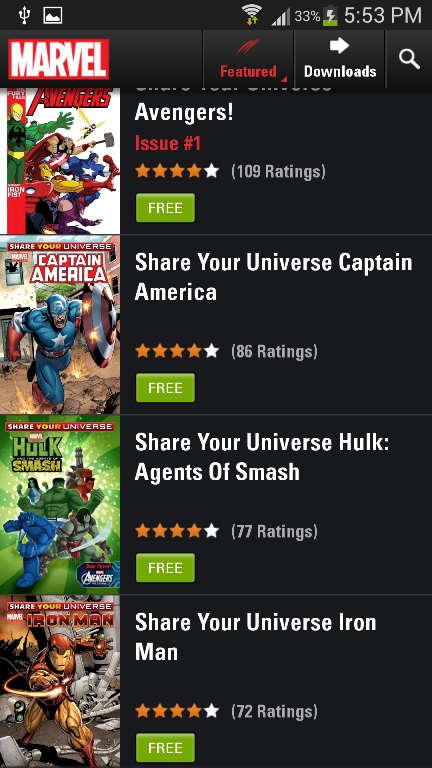 Another great application for the comic readers. Featuring the world's most popular superheroes, the Marvel Comics app contains hundreds of comic books ready for you to download. Including Iron Man, Thor, Captain America, Spider-Man, Wolverine and more. Here you will find above 3500 comics featuring the world most popular and your favorite superhero. Just download the comic on the app and read it anytime and anywhere on your phone.
If you are the fan of Dark Horse comic then this application is must for you. Here you will find lots of your Favorite Dark horse comics such as Star Wars, Mass Effect, Buffy the Vampire Slayer, Hellboy, Sin City and lots of other comics. Once you download the comic on the application, you will read all those comics on your laptop, desktop, tablet or mobile browser with the help of their cloud-based technology.
If you're looking for new comics from these companies, then these are must have official application for your android smartphone and tablets. If you are looking for some of the other best and free application for your android smartphone and tablets, then do check our best application sections here and download your favorite app on your device.