These days lots of new Android mobile phone and tablets are coming day by day and lots of the new users are trying there hands on the Android devices. But most of the new users doesn't now most of the secrets of the Android device or you can say some tricks which you can use on your Android smartphone or tablets. So to day we come up with the new post in which you we will let you know about some of the hidden secrets of your Android device, read all the latest android secrets below and don't forget to like our Facebook page here for more updates.
1. Take pictures while recording
If you are recording the video on your Android mobile phone or tablet and at that same time you want to click the pictures from your device, Yes you can do this easily with a single click. No need to stop recording on your device just long press on your video screen to capture the shot from your device. In some device you have to touch the screen once to click the picture and Your photo will be saved to your device's gallery. That's it now you can click and record at the same time.
2. Solve Sudoku with Goggles
Facing problem to solve the Sudoku on the new paper or from the magazine. Don't worry get you android phone and solve it in a minutes. One of the coolest feature of android device, to do this you have to install the Goggles android application on your android from the Google play store. Once you installed the application on your device, run the Goggles application and click the Sudoku pictures on from the application and the app will finish it for you.
3. Silence ringer during incoming call
Suppose you in some meeting and someone calls you, you can mute the incoming call ringer without picking or rejecting the call, just press the volume down button on your device. Now you phone is in silent mode for that incoming call.
4. Swipe-to-delete gesture in Gmail
One of the cool feature new Gmail Android application, no need to open the GMail message to delete it. Just swipe with your finger and the message will deleted from your Gmail account. Read the the full details here How to Use Swipe To Delete in Gmail on Android
5.Android Secret dialing codes
Do you know that android has some secret dialing codes, which will activate a number of hidden features and settings that you can take a look at on your phone.
Note: Not all dialing codes work with every device.
*2767*3855# – Hard reset your phone
*#*#1472365#*#* – Quick GPS test
*#06# – Displays IMEI number
*#*#34971539#*#* – Shows complete information about your
device's camera
*#*#526#*#* – Wi-Fi tests
*#*#4636#*#* – General phone information
*#*#1234#*#* – Firmware information
*#*#0842#*#* – Vibration and backlight test
*#*#44336#*#* – Displays build time and changes list number
6. Add Custom Keyboard Shortcuts On Android Device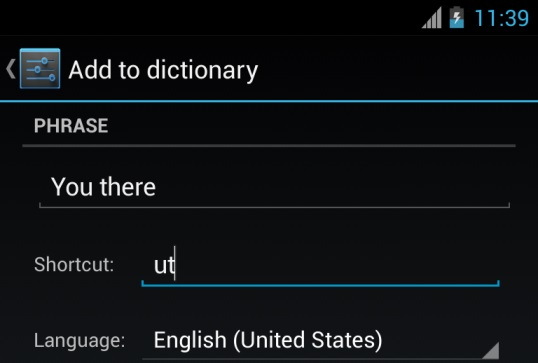 Keyboard shortcuts are a great time-saver, with this way you can type faster and use you android device quickly and easily. Here is the compete which guide which helps you to Add Custom Keyboard Shortcuts On Android Device
7. Reboot Android Device in Safe Mode
Facing some problem in your phone or tablets. Son;t worry you can solve this easily by rebooting your device into safe mode. To do this Long press on your power button and on the Power Off tab that appears. You can now choose to boot your phone up in safe mode.
So these are some of the of the Android secrets that you can try on your device, If you've uncovered some useful tricks of your own, let us know in the comments. Looking for more Tips and How to Android guides, click here!