I spend most of my free time to customize the look of my Android phone. And most the Android user are doing the same to customize their home screen to the fullest. In Android you can do lots of things to change the default look of home screen. To change the look of your device as per you taste is a easy task and you can find lots of customization pack on Google play store. In our previous post we shared lots of guide to add cool widgets on android, Free icon packs to change the default icon look, Live wallpapers to pimp up your screen and Free android launchers to get rid of the default launcher and personalize the look of home screen.
So today again i am back with the new guide, today in this guile am sharing some of the best weather widgets which you can use on your home screen and get the weather details on your phone and tablet in nice and beautiful way. All the below mention weather widgets are free to download and you can get them from the Google play store. Let's take a look at what this list has in store for us.
Free Beautiful Weather Widgets For Android
My Personal favorite Weather widget, which am using it from long time. Clear Conditions HD is UCCW skin which you can only use with the UCCW Android app. A very nice minimalistic widget showing current weather in very good design on your home screen. The skin contains HD image files and two styles dark & light. You can find some more Beautiful UCCW Skins here
If you are looking for the neat and clean weather widget hen you have to must try Eye In Sky weather widget. The widget comes with the 14 different icon set which you can easily change from the app settings page and set as your favorite icons on weather widget.
Another nice and free UCCW skin, which you can use on your device with the help of UCCW skin app. The widget has 4 set of skins for weather clock widget, calendar and an analog clock, a digital clock and weather bar. One of the best design and awesome widget to show clock and weather at the same time on your home screen.
4. Sense V2 Flip Clock & Weather
If you are the fan of HTC sense UI then you have to try this sense UI based clock and weather widget on your android device. At widget has lot of skin for the clock and weather which you can easily change from the settings off the app.
5. EZ Weather HD Forecast Free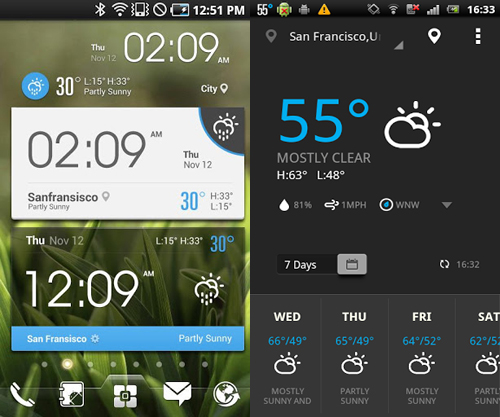 EZ Weather has a simple, clean and beautiful HOLO interface. Get the highs and lows of daily temperatures and forecast of up to 7 days. With this widget you can get weather conditions quickly including daily and hourly forecasts for any location.
Looking for more customization tips for your android, read our another guide 10 Best Apps to Customize Your Android Screen