The best thing we like about Android smartphones and tablets are that they are easy to customize. You can make lots of changes on your android device, not only you can change themes, launchers, wallpapers, but also you can change the the default Android keyboard with other alternative keyboards. Most of the Android mobile users don't like the default keyboard look and sometimes typing using an on-screen keyboard can be rather tiring and fiddly. Don't worry Android is all about options, you can easily change the default keyboard with some other Android keyboard, In Google play store you will find lots of free and paid Keyboard which you can easily install on your device. So today, I'll show you the four of the best Android keyboards which you can replace with your android default keyboard.
If you are the big Fan of Google Nexus Device and looking for the Same Nexus type Keyboard, then you have to try Google Keyboard android application on your device. Google Keyboard is powered with some of the best awesome features such as Gesture Typing, Dictionaries above then 20 Languages, Voice Typing and Advanced keyboard layouts. To apply the Google Keyboard on your device, just install the application from Google play store and run the application on your device, simple.
One of the most download keyboard application in Google play store, over 180,000 5 star reviews. SwiftKey predicts your next word before you've even pressed a key. As you sweep your finger over the
keyboard to join up the various letters, the keyboard will work out the word that you are trying to form. To enable the keyboard on your device, install the application from goggle play store and go the Settings go to 'Language & input' and tap SwiftKey.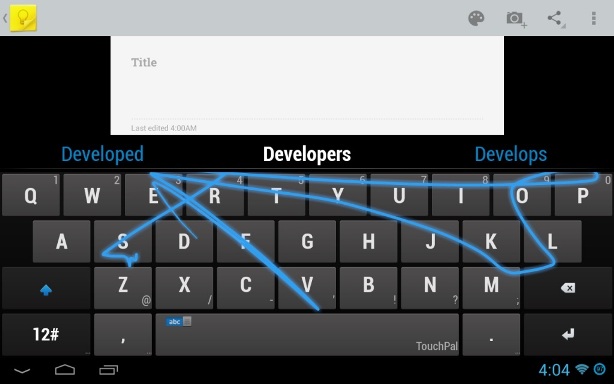 A Keyboard to create words by sliding across the keyboard with your finger. One of the fastest way to type anything on your android keyboard. Some feature of the keyboard are Gesture shortcuts (slide up/down), Mistyping correction on QWERTY, Multiple skins to change the look of keyboard. Once the application is installed on android, Go to "Setting" => "Language & input" => "Choose input method" and select "TouchPal Keyboard".
With the help of this keyboard you will use your thumbs to type using a special kind of keyboard. The app works for phones and tablets, as well as the in-between phablets. A first and only keyboard which has a new "split" layout for tablets and phones that makes thumb typing more natural.
Read Also: How to Enable and Use Emoji on Android Devices
Read Also: Add Custom Keyboard Shortcuts On Android Device