Flashing Custom ROMs on Rooted Android Mobile and Tablets needs so much patience and time. Flashing Custom ROMs is bit lengthy process, first download ROM, move to SD card, Reboot device Custom recovery and then flash the new ROM and reboot. Most of the users don't want to waste so much time to follow the lengthy process and looking for the simple and easy way to install custom ROMS on android devices. To install custom ROMs all you need a rooted device with custom Recovery installed. Once both the requirement are completed on your device you can find lots of Free custom ROM from the internet or you can use GoogManager app to search best ROMs for your android.
Flashing ROMs is not a easy task for the newbies, if you are not following the right guide then you could end up bricking your phone. Before Flashing ROMs on your device read the instructions carefully and then follow the steps on your device. But with the help of some free application you can do this easily on your device, all these application allows you to flash custom ROMs on your device with a single click. So, today we came up with the list of some useful android application which helps you to install custom ROMs on your phone. Use the apps listed below at your risk, you are responsible for anything that goes wrong. Be warned!
1. ROM Manager
One of the most download application from the Google play store to Flash ROMs. Come with lots of handy and useful features such as Flash Recovery, Manage your ROMs, Reboot in recovery mode and Install ROMs from your SD card. The user interface of the application is neat and clean and easy to use, All you have to select the option from application settings page and you are ready to go. To use this application you need a rooted device with ClockworkMod Recovery.
Again an simple and easy application to flash ROMs. Works only with rooted phone and tablets. With this free android application you can easily install, manage, backup, and restore multiple ROMs from your SD card. Not only this also give you some extra features such as Batch backup & restore apps and their data, Restore apps from nandroid backups, Backup your apps to dropbox and more.
3. Flashify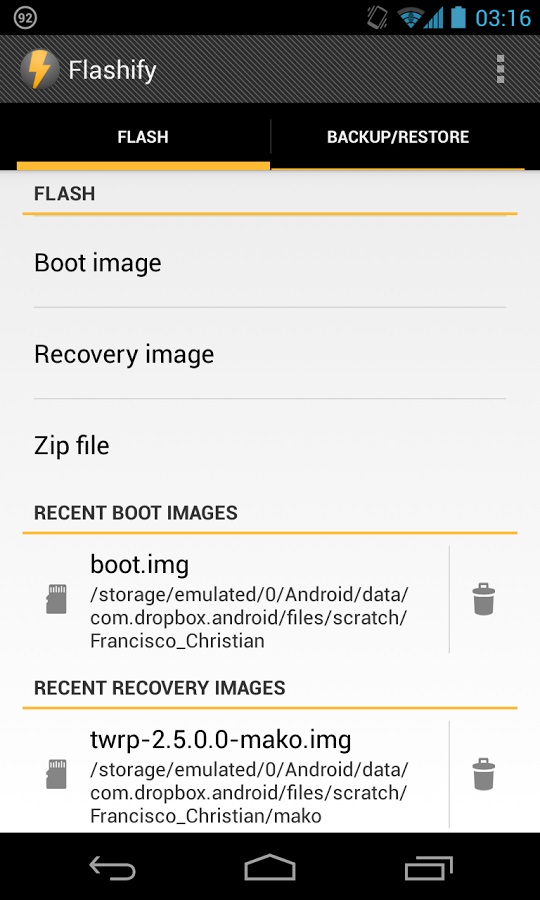 A new Application in Google play store, tested and fully working on the Galaxy Nexus, Nexus 7. Nexus 4 and Nexus 10. Another simple way to install custom ROMs, recovery images and zip files right away from the android home screen. Again to use this application you need a root access on your device and custom recovery. This app is free but has a limit of 3 flashes per day. You can unlock the limit with a quick in-app payment.
So, let us know which ROM manger is your Favorite and what feature you like most on these applications. Share your experiences with us in the comments!