Few years back transferring content from one mobile to another mobile is a difficult task, at that time you need to copy each and every content to another device. But these days lots of free application are available on the internet which allows you to migrate contents from one device to another device in a very simple and easy way. In out previous articles we mention about some of the application which you will use on your smartphones to migrate all your data to your new smartphone or tablet such as Transfer Content from iOS, Blackberry, Nokia to Samsung Android Mobile and Transfer All Your Old Android Content to HTC Android Mobile and How to Transfer iPhone Contacts to Android Mobile.
Today in this guide, I'll let you know how to transfer content wirelessly between Samsung Galaxy devices. The process is so simple and no need to use any cable or desktop to migrate all your content such as messages, pictures, music, and other files from one Samsung Android device to another Samsung device. All you need a free android application called
Samsung Smart Switch Mobile, the application will work only the Samsung Android devices. Suppose if you have the two Samsung device, then this application is the best for you to migrate transfer content between both device.
All you have to install the application on both of your Samsung devices. Once the application is installed on your phone or tablet, run the application and Tap on the Connect button from one of them to initiate the connection. To use this application position the two Samsung Galaxy devices within 50 cm of each other.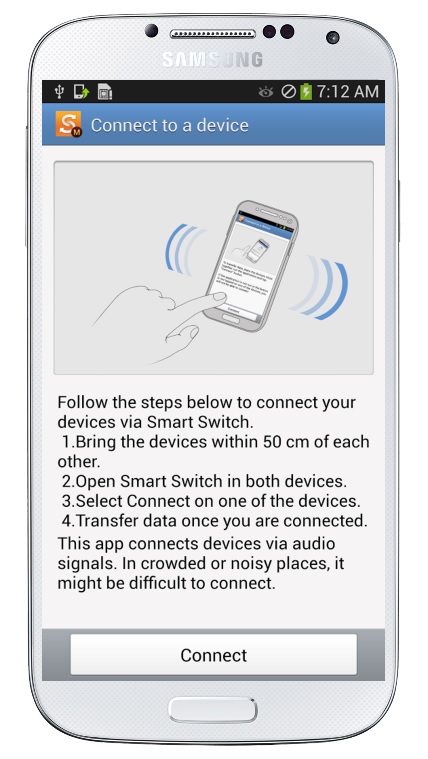 Once both of your Samsung Galaxy are connected which each other, select the content which you want to migrate. Simply select all the contents you want to copy over, then tap the Transfer button.
Now the transfer setup will starts on your device and it should take some time upon the size of data. Once the transfer process is complete you will see the message on your screen that transfer is completed successfully.
That's it. Now all your data is migrated to your another Galaxy Device. Currently application supports to Galaxy S2, S2-HD, S3, S3-mini, S4, S4-mini, Note 1, Note 2, Note 8.0, Note 10.1, Grand, Express, R style.
Download Samsung Smart Switch Mobile