Great news to all nokia touch screen phone lovers, today Nokia announced the 2 new Touch Screen Phones Nokia Asha 308 and Asha 309. Both the new sleek and beautiful touch screen phone are packed with Internet connectivity, apps, maps, social networking and games.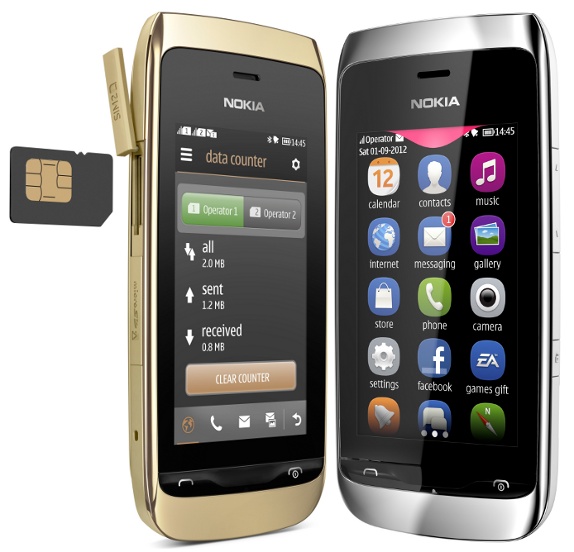 Both new Nokia Asha Phone are of series 40 platform with 3-inch scratch resistant capacitive displays and 2-megapixel cameras and runs on Nokia Asha OS with Swipe Interface. The Nokia Asha 309 is a single-SIM phone, WiFi-enabled device and Nokia Asha 308 has an Easy Swap Dual SIM so you can change SIM cards without turning off the phone. Both the Nokia phone are most affordable capacitive touchscreen devices to date.
Both the new phone powered with lots of app and games, like Facebook, Twitter and also the WhatsApp messenger. Also you will get lots of preinstalled games on these tow new phone such as EA Games including Tetris, Fifa 2012 and Need for Speed. Best feature of these phone are both loaded up with a newer version of the company's Xpress browser, which uses cloud compression technology to make surfing the web faster whilst consuming up to 90 per cent less data.
Nokia confirmed that these phone will come on the market in the fourth quarter of 2012 at the price near about 99$ (Rs 5,292) excluding taxes and subsidies. Here are the specification of the both phones – 2-megapixel camera, 2GB microSD Card, 3-inch Capacitive WQVGA Display, Dimensions 109.9 x 54 x 13mm, Nokia Asha 308 has dual sim and Nokia Asha 309 with single sim, WiFi connectivity and an internet radio app.