Few days back we showed you how to change your phone theme with Android L and how to install Android L Wallpaper and ringtones. As we all know that the upcoming Android L OS is packed with some awesome features and new UI. Android Dialer is one of them, the new dialer comes with new UI and with some awesome feature which you can't see the Android Kitkat and Jelly bean dialer. If you are running Android L preview on your phone than you know about this feature. But the Android L developer preview is only available for the Nexus users, if you have the other device and want to test the new dialer on your app than you must try the free android application called ExDialer Theme Android L.
In this post we will show how you can use the Android L dialer on your Kitkat or Jelly bean devices. No need to root your device, all you have to install an application on your phone and you are done.
Install Android L Dialer On Any Android
Open the Google play store application on you phone and install the ExDialer Theme Android L app, you can find the direct doanload link of the application at the end of this guide. Once the application is installed you will see two new icon on your home screen "exDialer Android Theme" and "Dialer"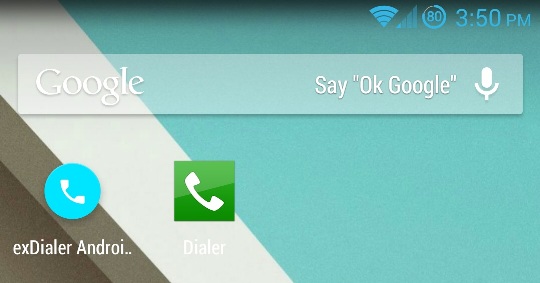 First open the exDialer Android Theme application and select the Android L theme and Apply the theme on your device on your phone. See the screenshot below:-
Now the Android L dialer theme is activated. To see the new theme open the new Dialer application on your phone and you see the new UI. To make more changes on the dialer like fonts size, dialer size etc go to setting page of Android L Dialer and customize the look of the dialer.
Download ExDialer Theme Android L