Lots of new android Devices are hitting market the days, all these android smartphone and tablets are powered with some good features and specs. On the other hand most of the Android developers and XDA developer are working on new custom ROMs and system tweak which are powered with some of the best feature. Most of these extras features and mods are not available in the Android Stock ROMs. Paranoid ROM are one of the most popular Custom ROM with some of the best features like Pie Controls, which offers on-screen navigation keys whenever you swipe from the edge of the screen. If you want to use the same Pie Controls feature on your android phone without installing the Paranoid ROM on your device, then you can do this easily with the help of new Android application called Pie Controls.
Pie Controls app is compatible not only with JellyBean devices but all the way from Froyo and Works for any Custom ROM or Stock ROM and any device. Thanks to XDA Senior Member EatHeat, who has has backported Pie Control to Android 2.2 and newer Android Versions. The application works on all rooted and non rooted devices, but to use some extra features of the Application you need a rooted device. Lets take a look how the application works on Android Screen.
Go to the Google play store and search for the Pie Controls application, the app is available on Play Store for $1, if you want to enjoy the free version of the application then check out the source link at the end of this post. Once the application installed on your phone, run the applications and enable the Pie Control on your phone.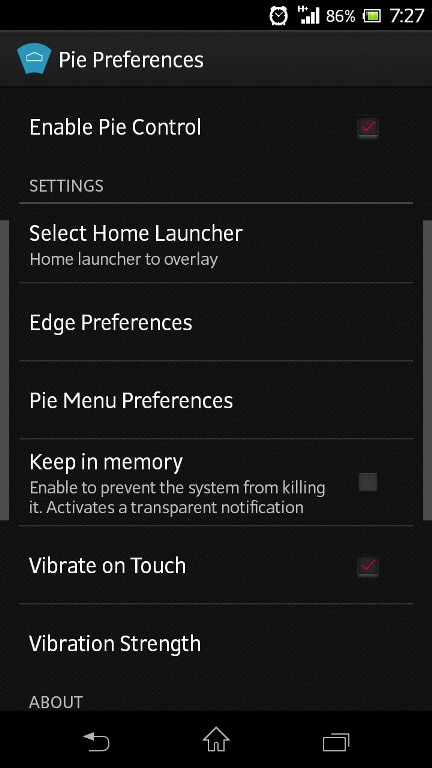 Now the Pie control is enable on your device, Go back to your home screen and now you will use the pie launcher on your phone, simple tap on the right or left side of your screen and here you will see the Pier control on your screen. The best part of the launcher is that Pie control can be called over any screen.
From the setting page of the application you will change the width and height of the trigger areas. Change the color of the launcher, adjust the transparency of launcher, set the controls to vibrate on touch, change the position of launcher and more.
Normally, this is a paid app on Google Play, but you will enjoy the free version on your device from thr XDA thread. Download the application from the below mention links.
Download Pie Control From Google Play store
Download Pie Control From XDA Thread