The iPhone 4 is one of the fantastic device loaded with lots of features. It has lots of incredible number of app, which makes iPhone 4 one of the best smartphone. There are more than 500,000 apps in the App Store, finding the best ones is no easy task. So today here we come with 30 Excellent iPhone 4S Apps list. Here you'll find social networking app, Music app, games, practical utilities and more.
UTILITIES
1. Peepo :- Peepo helps you to communicate with multiple people from your address book at the push of a button enhancing the iPhone's Email and Messaging apps. The apps mission is simple, it helps user to create groups so that a group text or email can be sent quickly.
2. AirPort Utility :- AirPort Utility is free app for iPhone 4S, which helps you to manage your Wi-Fi network and AirPort base stations, including AirPort Express, AirPort Extreme, and Time Capsule — from your iPhone.
3. Pimp Your Screen :- Helps you to customize the look of your device, an exclusive selection of specially designed backgrounds, icon skins, app shelves, neon combos and many other eye candies.
4. Simply B&W :- Turn your great color shots into exciting black and white photos. The images produced look very good, and the app is responsive.
5. PDF Expert :- PDF Expert lets you read and annotate PDF documents, highlight text, make notes and save these changes being compatible with Preview and Adobe Acrobat.
6. Virus Barrier :- VirusBarrier helps you easily scan e-mail attachments, other files you have access to on your iOS device, or files on remote locations such as MobileMe and DropBox, web servers or WebDAV and FTP shares. It helps you make your files virus free.
Social Networking
1. Facebook :- One of the most popular social networking app in app store. A quick and responsive interface for Facebook.
2. Hootsuite :- Perfect social media app for Twitter, Facebook, LinkedIn, and Foursquare. A great choice for social media addicts who need to know what's happening.
3. Tap 2 Chat :- Are you a Facebook and Gtalk Chat addict, than this app is must have for you. Chat to all your Facebook and Google friends on the go using this easy-to-use, affordable Instant Messenger App!.
4. Find My Friends :- Best and easy way to locate your friends and family from your iPhone. Adding a friend is easy – just send a request to see their location.
5. Audioboo :- A free app for recording and sharing your voice with the world. You don't need to create an account to start recording.
6. Feathers :- Cutest iphone app for your Tweets. Help you to decorate your Tweets with Feathers. Check the screenshot below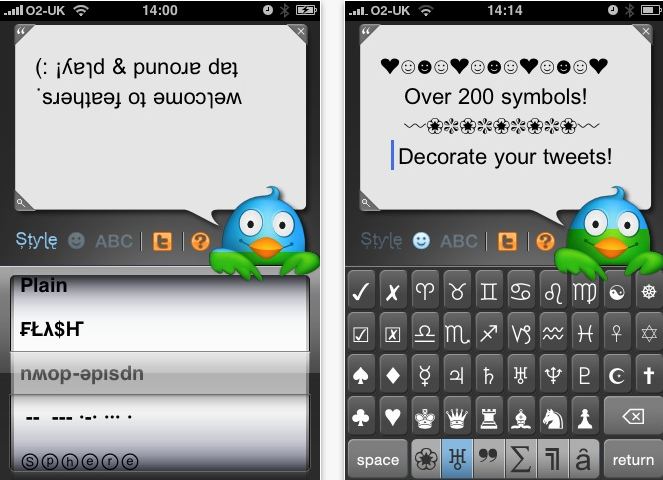 Lifestyle
1. Google Places :- Free app for your iPhone, allows you to discover nearby places you'll love. Quickly search for Restaurants, Cafes, Bars and other places, while on the go.
2. Calorific Lite :- Simple and easiest way to tracking & improving your diet. It's a good way to get into healthier eating.
3. Moleskine :- Express your creativity through text, images and sketches. Pick a classic Moleskine notebook paper style, create a new thought and start to type or draw choosing amongst different colors and sizes.
4. Weather + :- Beautiful and well designed app for iPhone. Helps you to add all info about weather on one page, and the background video matches the weather conditions.
5. 4oD :- Watch Channel 4 on your iPhone with this app. It enables you to catch up on a wide selection of programmes recently broadcast on Channel 4, E4 and More4.
6. iBooks :- iBooks includes the iBookstore, where you can download the latest best-selling books or your favorite classics – day or night.
MUSIC
1. Spotify :- Spotify becomes a near complete replacement for (or at least an effective addition to) the Music built into the iPhone. Premium members get exclusive content, as well as an impressive desktop streaming rate of 320kbit/s. The iPhone app is limited to a bitrate of 160kbit/s, though, but that's still fine. On the whole, music via Spotify tends to sound better than the tracks you've ripped.
2. TuneIn Radio Pro :- Streams radio stations and programmes from around the world to your iPhone. As well as listening to radio stations, you can pause and record shows.
3. Airfoil Speakers Touch :- Enables you to turn your, 'Phone into a portable speaker. Airfoil Speakers Touch works as a perfect companion to remote-control apps. With Apple's free Remote app, you can control iTunes on the same computer that's streaming audio from Airfoil to your iOS device.
4. Shazam :- Hear a song you don't know? Shazam identifies it instantly – the 4th most downloaded App of all time.
5. GarageBand :- Turns your iPhone 4S into a collection of Touch Instruments and a full-featured recording studio — so you can make music anywhere you go.
6. Sonos Controller :- Control all of your music, in every room, from your iPhone. The Sonos Controller app provides the perfect way to control your wireless music system in an effortless fashion.
Games
1. Tiny Tower :- Tiny Tower lets you build a tiny tower and manage the businesses and bitizens that inhabit it!
2. Unpleasant Horse :- You're a cute little horse with wings – and a bad attitude. Occasionally a bird will fly by; you need to steal their feathers to stay afloat. They have feathers which you need to help stay afloat when there are no clouds nearby.
3. NyxQuest :- NyxQuest is a side-scrolling platform game that sees you play as Nyx, a winged girl who is searching for her missing friend Icarus. You'll need to be careful, though, as Hades has sent his minions to try and stop you.
4. Zombie Gunship :- Zombie Gunship™ puts you in the gunner seat of a heavily-armed AC-130 ground attack aircraft. Strategically fire your powerful guns to slay endless waves of zombies and protect the remaining survivors of the zombie apocalypse!
5. Starfront Collision :- The best real-time strategy is now at your fingertips! Starfront: Collision, the epitome of RTS gameplay with gorgeous HD graphics and a competitive 4-player multiplayer.
6. Super Stickman Golf :- This highly addictive game sees you play as the titular Super Stickman. There are three course packs to choose from: Classic offers 16 beginner courses; Super includes eight intermediate ones; and Expansion sports five painfully advanced offerings.
Don't forget to Subscribe to our feed and Follow us on Twitter or Facebook for updates.