Today Vodafone India announced the new 3G android phone to its android users Vodafone Smart. New Vodafone smart is powered with Qualcomm's Snapdragon S1 processor and Android 2.2.1 OS at Rs 4,995. The phone has lots of inbuilt features like 2.8 inch capacitive touch display, 528 MHz ARM 11 CPU, 2 mega pixel camera with Geo-tagging, WiFi, Video recording and MP4/3GP playback, up to 32GB expandable Memory (2GB card Free), Stereo FM and MP3.
It was the one of the cheapest 3G Android phone in indian market, which allows there user to enjoy all types of service like new-gen mobile apps, games, internet and social networking platforms on-the-go.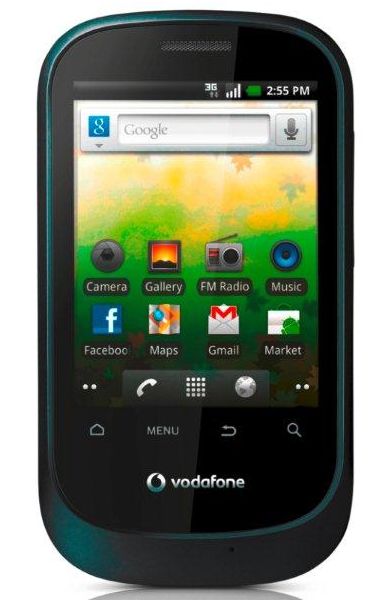 Some of the key features of new Vodafone Smart Android Phone :-
1. 2MP Camera & Video recording to captures the videos an d images.
2. Stereo FM, MP3, MP4 with 3.5mm jack.
3. Integrated Google Services – Push Mail, Maps, Speech to Text, Gtalk and You Tube.
4. Android Platform 2.2.1 with Bluetooth, WIFI & USB connectivity.
5. Up to 32GB expandable Memory (2GB card Free)
via-BGR