None of us want to share our online privacy on internet and avoid being tracked. Because everything you surf on internet is not hidden form the hackers, they will easily track you and monitor all you daily activities. At this point all we need a VPN application which protect your online privacy, unblocks websites and helps you to surf the web without being tracked. There are plenty of free and paid VPN application are available on the Google play store. But SurfEasy VPN is one of the best apps which give you lots of option like Secure Wi-Fi Hotspots, Mask your IP address, Bypass firewalls, Encrypt all traffic on your device and Unblock Facebook, Netflix, Gmail, Twitter, Hulu, Pandora, BBC and other blocked sites.
VPN service are not only for the PC, now you can easily secure your tablets and smartphone with this VPN applications. SurfEasy VPN application available for Windows, MAC, iOS and Android devices. Its a free application with some restriction, free version gives you 500mb a month and the ability to earn more simply by telling your friends. If you have the Android mobile or tablet then go to the Google play store and search for the SurfEasy VPN app or you can find the download link at the end of this post.
Once the application is installed on your android mobile or tablet, run the application from your apps drawer. On the first page of the application it will ask you to Create a free account. Hit the Create Account button and create your free account with SurfEasy. Enter Your email address and password to create your free account.
Once the account is created, You can select the country you want to appear to be located or select the Surfeasy Optimized option to select the location automatically. You are then anonymous and can access the web privately without anyone knowing who or where you are. On the Map page of the application you will see your location as "Protected".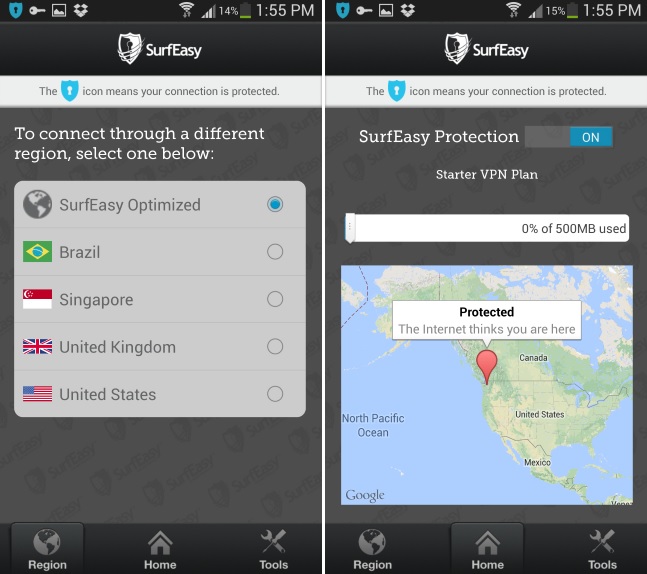 Overall, the application is simple to use all you have to create a free account with them and enable the protection on your phone or tablet. We tested this application on our Galaxy S4 and Nexus 4 and the app works s smoothly and nice way to hide your location from hackers and other websites.
Download SurfEasy VPN App here