Why to install third party application to lock your apps in MIUI 6 ROM or Xiaomi devcie like Mi3, Mi4, Redmi 1s. You can get this feature by default in MIUI 6 ROM, yes no need to install any application to protect your privacy. With the help of this new feature you can lock any of the application on your device and also lock the setting of the phone. Now no one can change the settings of your device and can't see the persona files like images and videos. All it takes is just less than 30 seconds or so to have your device secured enough. In other words no one else other than you can access the app you will to protect without knowing the pass pattern.
The process is so simple and one of the best and easiest method to lock gallery, Whatsapp, Messages, FB and any listed that you wish to could be locked. So lets take a look how this works on the MIUI devices.
Lock Apps in MIUI 6
Step 1. Go to the Phone Settings and tap on the Security to follow the next step.
Step 2. Now from the security screen tap on the "Privacy Protection" to lock you apps.
Step 3. Once you in the privacy protection page, click on the "Permission" toggle and it will prompt you to set the "pattern lock" to lock the apps. Enter the pattern lock here to lock the apps.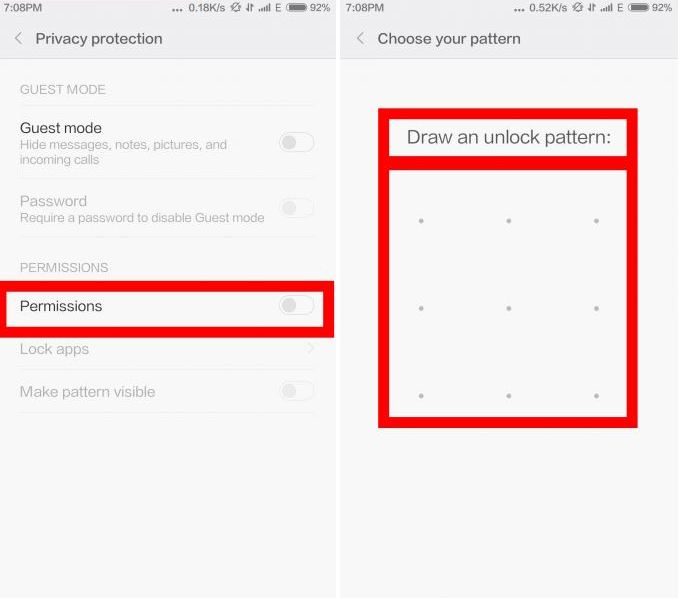 Step 4. After the lock pattern, go back to the Privacy Protection page and tap on the "Lock apps" option and select the apps which you want to lock.
Step 5. Now the app are lock protected and no one can open the application without unlocking the pattern. Next time when you try to open the app you have to draw pattern to inock the app. Without the password lock no one can open the app and setting of your phone.