Moto X is one of the latest android phone and one of the most talked about smartphones, the phone comes with lots of new features Gesture control is one of them. In Moto X you can easily launch the camera with gesture control, a nice feature to launch application without clicking the app icons from the device. If you want to experience the same feature on your device than you have to try the new android application called Twisty Launcher. It supports customized gestures for individual apps. With this application users can setup the gesture on the device to launch the camera and other apps. So next time when you want to launch your application all you have to shake your device to open those applications on your device.
In the application you can choose only three possible gestures, a chop, a twist, and a flip. Which you can enable from the setting menu of the application. You can download the application from the Google Play store or find the direct download link at the end of this post.
Once the Twisty Launcher application is installed in your android mobile, run the application from the device. On the setting page of the application you have to enable the "Allow Lock Screen gestures" and on the same page you can see the gestures control Chop Twice, Face Down up Twice and Twist Twice. The chop gesture is enabled by default and camera app is enabled on that gesture control. To open camera all you need to do is hold your phone in your hand and flick to the left twice and the camera app will open on your device within a seconds. One of the fast and quickest way to launch the camera application on Android devices.
Rest of the two other controls Face Down up Twice and Twist Twice are locked, to unlocked those control and enable the application on them you have to purchase the unlock code form the application, Once you purchase the unlock code after that you can enable other application on your device. If you want to change the chop gesture settings from camera to any other app, than again you have to purchase the unlock code to change the setting of chop gesture.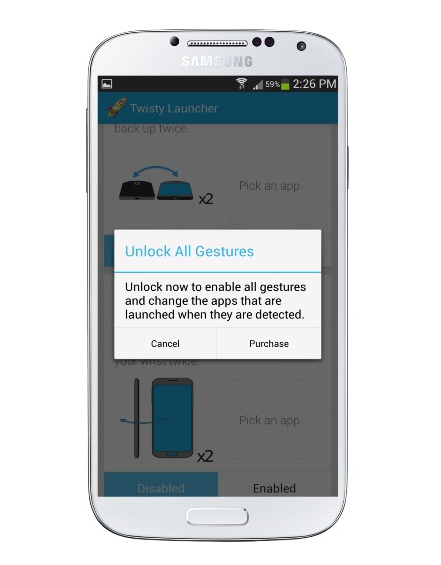 The app runs in the background and looks for gestures to perform. Works perfectly on any Android device supported with Android 2.3 or higher. Just download the application from below mention link and experience the Moto X gesture control feature on your device.
Via– Androidpolice