TheftSpy is one of the most powerful Anti-Theft android app. Powered with lots of features such as Track Lost Android, check call logs & message inbox, Capture image from camera and screenshots remotely, delete your Mobiledevice, Reset / Reboot / Power off your Device and lots more. These are some of the most useful feature to track your lost device.
There are plenty off apps are available in the market which helps you find you lost android device, but Theft Spy is one of the best. Some feature we like most in this app, that it allows you to send alerts on your lost device, encrypt entire mobile content, read & delete WhatsApp messages and last one which we like most is it record audio via your device's microphone and lots more, all from your desktop web browser.
To use this powerful anti theft application on your device you need to register for an account that will be used to link the web app with the mobile app. With this way you can fully manage your android device remotely.
Go to the TheftSpy and register a free account to use this application on your device. After the registration, download the application from the play store on your device and login with user ID and password. Once you log in you can see the status of your device on the webpage of Theftspy.
On the Theft Spy account page you can see lots of option to manage your device. So let take a look of all these features which you can use from the web portal.
GPS Tracker.
With GPS Tracker, you can track your lost device. This feature gives you the current location of your device.
SMS
With this feature you can read all your inbox and outbox messages remotely on the web application. All you have to click on the Grab Messages button to receive all messages on your account.
Camera
One of the best feature we like most in this application. If you lost your device, than you can click the pictures of the person from the front camera of your device. Once a photo has been taken, just hit the Refresh button to preview it on the webpage.
Screenshot
This feature works only on rooted device, with this you can capture the screenshot of your device remotely. Like Cam Gallery, the Screenshot tab enables you to preview all the captured shots on the webpage.
Audio Recorder
Allows you to record the sound from your device for a custom duration. TheftSpy will automatically record a 3-second audio clip for you. You can play all these files from your App account.
Messages and Alerts
TheftSpy offers different message and alert functions. Some are for Information and some are used as Alarmsystem. With the helps of this feature you can remotely send a custom full-screen pop-up text message, a toast message or Text-To-Speech (TTS) message to your Android device.
Data Security
From here you can remotely wipe all your Android device's data, images from Camera folder, or your personal WhatsApp data. Also you can encrypt all the content on your Android device.
Power Control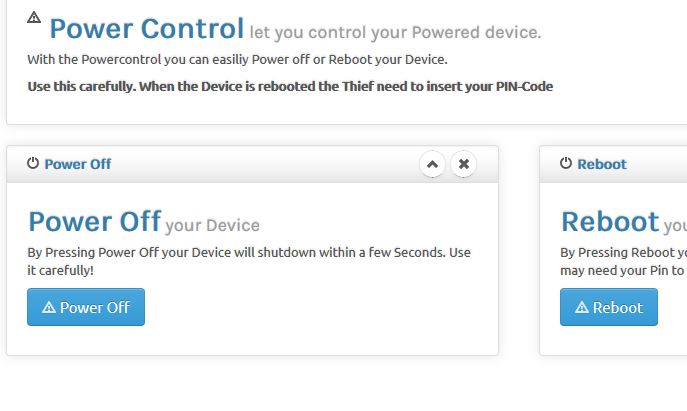 With this feature you can remotely power off, reboot and lock your Android device. When the Device is rebooted the Thief need to insert your PIN-Code.
Currently the app is in alpha stage, so you can find some bug on it. But we tested all its feature with our Nexus 4 and all of them works fine for us. TheftSpy requires Android 2.3 Gingerbread or higher to run.
Download Theft Spy Android App