If you are an android user and want to know to automatically backup your photo gallery on your Google drive account. Here is the pretty easy guide which you can follow on your smartphone and take the backup of all your images on your GDrive account. No need to root your device or install any mod, all you need a free application called Autosync for Google Drive. The application is free to download and works fine on all the android devices. We tested this application on our Nexus 5 and Galaxy S4 smartphone and the app work without any problem. Once the app setup is completed on your device all you saved images and clicked image will sync on your Google drive account. From there you can easily restore your image on any other device.
The app works same like the Google drive desktop application. Very efficient, consumes almost no battery and very easy to set up. Once set up files will be kept in sync without any effort from users. Lets take a look how the application works on the android mobile phones.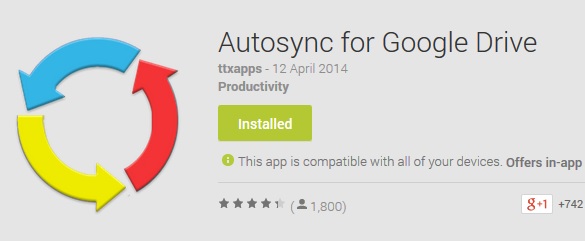 AutoSync Android Images on Google Drive
As we mention above to setup this feature on your android all you have to install the application. Visit the Google play store app and search for the "Autosync for Google Drive" app and install it. You can find the direct download link of the application at the end of this guide.
Once the app is installed, run it on your device and it will ask you to connect your Google drive account with the app. Enter your Login and password and authorize the app to get started. After a few second when the account is linked with the app it will ask you to select the Folder which you want to sync on your GDrive account. Select the Folder from the app.
Now the next screen will ask you to select the folder on your Google Drive in which you want to save all those images or you can create the new one on your Google Drive account.
Next and most important part is to Choose Sync method for these folder. From you choose Sync method for the images like two way, Upload only, Download only etc. See the screenshot below:-
That's it! You are almost done and now see the magic on your device. All you images will start syncing on your GDrive account automatically. One of the fastest and easiest way to take the backup of all your images on your Google Cloud account.
Download Autosync for Google Drive here