Whenever you bought the new Android smartphone or tablet like Sony, Samsung, HTC or from any other manufacturer, you will get some pre-installed application on those devices. Most of these apps are not so useful and you can't find any option to remove them from your device. All these apps are called bloatware and takes so much internal memory of your device. Most of the user like me want to uninstall these application and free up some space from the android device. Today, In this we'll show you how you can remove all these unwanted application safely from your device.
The below mention guide is only for the Android rooted users, this method will not works on non-rooted android devices. If you are not rooted, please root your device first, here are some best how to guide to root your device.
Removing Bloatware From Your Android
Open the Google play store application on your device and install the NoBloat Free App on your device.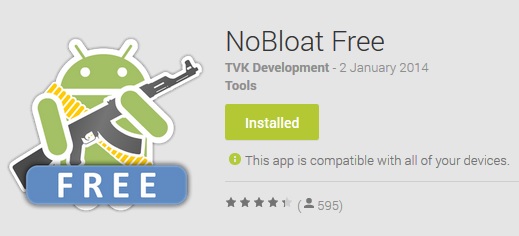 One the application is installed on your phone or tablets, run the application and click on the "System Apps" option, here you will see the full list of the apps which are installed on your device.
Tao on the application which you want to install, and a new popup windows will open on your screen with option like Disable, Backup, Backup and delete and Delete without backup.
With these options you can also take the backup of the application and save backup files on your device before uninstalling the app or you can remove them directly without taking the backup of the app.
Once the app has been removed, it will no longer show-up in the apps list. In Future if you want to restore the application again on your device than you can restore it from the backup file of the app. Overall the app is the best and safest way to remove all the unwanted system application from your Android device.
Download NoBloat Free Android App here