Without WiFi or 3g Data connection smartphone are useless, most of the smartphone users are using data connection on their phone to surf web, read email, download applications etc. With internet connection on your Android phone you will enjoy lots of stuff from internet on your android mobile. Recently one of our reader contact use and ask us a question "How can I lock my wireless and 3G data connection so only i can use it by accessing it with a password". In Android mobile their is no such feature to lock the data connection with password, you will only disable it on your device by turning it off from the Android settings. Now you will lock you data connection with PIN lock and nobody will be able to connect Wifi/Data Connection unless they know the secret PIN. Thanks to the XDA member msappz who released a simple and easy to use application called Internet Lock.
Internet Lock enables you to protect your WiFi and Data Connection by setting up a secret PIN on your android smartphone, Without the PIN number one can use your data connection. With the helps of this free application you will prevent accidentally incurring data charges on a prepaid mobile data plan. So next time when you are not on your desk and someone try to surf the web from your mobile he or she will have to enter the password to access the internet connection on your device.
The application is free to download and works on both WiFi and mobile data connections. All you hvae to install the application on your phone and select the connection type from the application and generate the PIN lock to lock the internet connection. The application is simile to use and Lightweight. Once the application is installed on your phone, run the application and from the main screen of the application select the data connection and enter the password to lock the data connection. See the screenshot below:-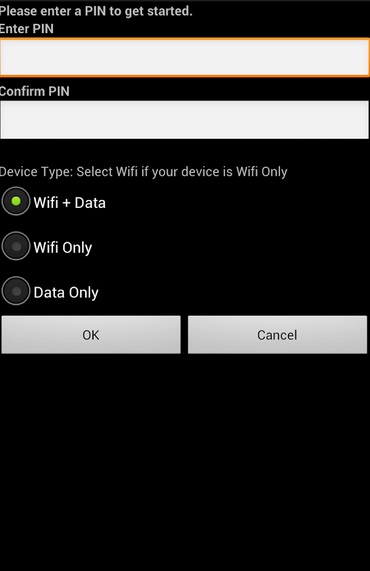 Now the connection is locked on your device, next time when you enable WiFi or Data connection on your device a PIN Lock popup screen will appear on your home screen, enter the password to enable the connection on your android smartphone.
One of the best and lightweight application to Protect Your Wifi on android. It is very lightweight application and requires very less disk space and memory.
Download Internet(Data/Wifi) Lock Lite