Want to play PUBG on Android Emulator for PC. No doubt PUBG is the most famous fame on the Mobile phone these days. And most of the gamers want to play this game on their Windows PC. So today here we are sharing a guide to Download and Play PUBG On Windows PC. In Mobile phone sometimes you can play a game for a long time, due to the small screen and can't control all the game key in a mobile screen. So PC is the best way to play the PUBG games. But the Question is How to play PUBG on PC. Yes, you can play the Android Mobile game on your PC with the free Android Emulator called Tencent Gaming Buddy.
Tencent Gaming Buddy is a free to download Android Emulator, Which you can use on your Windows PC and Play the PUBG without any problem. The best part of the Android Emulator is that its free for everyone and works on any Windows PC. All you have to download and install the Tencent Gaming Buddy and you can play PUBG free on your Windows PC. So let's get started and see how this Tencent Gaming Buddy will work and how to play PUBG.
How to Play PUBG On Windows PC
Visit this link and  Download Tencent Gaming Buddy application on your PC and install the same on your Windows PC. Once the app will installed it will install the PUBG on your PC and the process will take some time upon the speed of your internet connection.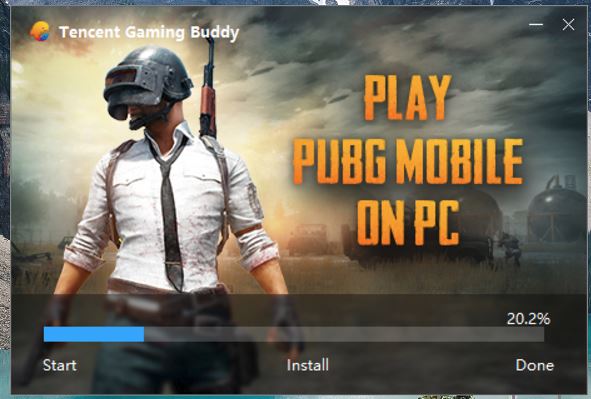 Once the game launches, you'll be able to see the Default Controller tab on the right side of the screen. From here you can MAP the keyboard keys as per your preferences. Not only this you can also record the gameplay by clicking the record button.
You can play the PUBG game on your PC with GUest ID or Facebook and Twitter login ID. Also, you can change the graphics setting of the game as per the specification of your Windows PC. Here you can not only change the Gaming Resolution to SD (720P), HD (1080P), or Ultra HD (2K) based on the graphical power of your computer but also set the Display Quality.
So this way you play the most famous PUBG game on your Windows PC and on the large Screen. So what are you waiting, go and play your fav Game on the PC.