Few months back, Google released the new Android Device Manager web application to track lost or stolen phones and tablets. Now, Google released a handy Device Manager app on the Play Store, with the help of this free android application you can easily lock, locate or wipe data of your android phone or tablet directly from your smartphone, now no need to access the Web application on the PC to track the stolen devices. Once the app is installed on your device, you can see the list of all your device on the application and locate Android devices associated with your Google account.
Features of the new Android Device Manager app:-
# Locate all your Android devices associated with your Google account
# Reset your device's screen lock PIN from the mobile
# Erase all you personal data on the phone remotely
Note:- To locate your lost phone or tablet, your device must be connected to the cellular network or to Wi-Fi to run the commands. If you device is note connected with the WiFi or 3G then its impossible to track, only you can see the last location of your device in the Google maps.
With this application Google gives the competition to Apple's Find My iPhone app. To get started, download the Android Device Manager application from here on your android powered phone. Now run the application on your device you can see the list of your android devices on the screen.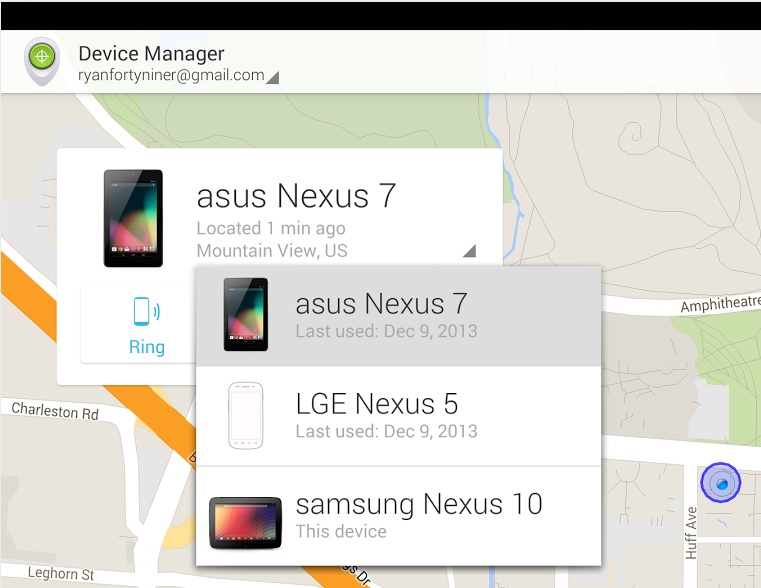 From that list select the lost device and on the next screen you will find some more options like Ring, Lock and Erase. With these features you can ring you phone, Lock you device with password and delete all the personal data remotely.
Download Android Device Manager from Google Play