Good news to all Android Fans, HTC One Google Edition and Galaxy S4 Google Edition are available now in Google play store for sale. Both the android smartphone run on Google Stock android and available to purchase on Google Play. Samsung Galaxy S4 comes with 16GB of storage with microSD expansion at $649 price and on the other hand HTC One comes with 32GB without expansion, with a price tag of at $599. Both the device are powered with complete Google Stock android and there's no HTC Sense UI or TouchWiz on these devices. Both the devices are available for purchase without any contracts and also come with unlockable boot-loaders, so no need to unlock the boot-loader of the device.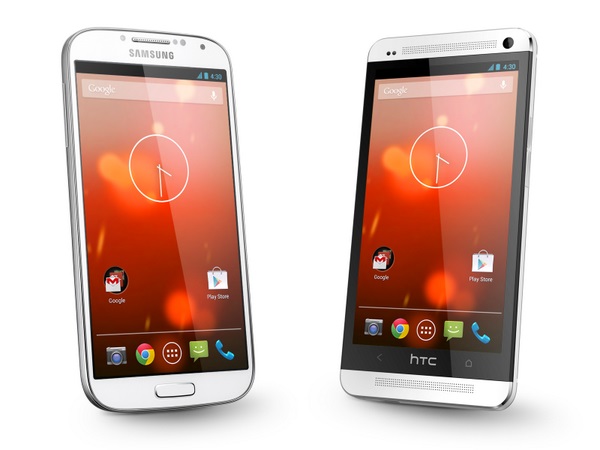 Both HTC one and Samsung Galaxy S4 are the best selling android devices in the market and if your the Nexus mobile fans than here is the best chance for you to get the new Google edition of both Galaxy S4 & HTC One smartphones. Galaxy S4 version come with the LTE support with microSD expansion and HTC one with 32 B storage and without microSD expansion support. You can buy both phone from Google play store from today and Google says that orders will ship by July 9. So if your the Nexus mobile fans that you can preorder your device from the Google play store and enjoy the Google stock android on your favorite devices.
Below are specs of the Galaxy S4 & HTC One Google Edition gramophones.
Galaxy S4 Google Edition Specs:-
a) 5 inch HD AMOLED with 1920 x 1080 Resolution,
b) Qualcomm Snapdragon S4 Processor,
c) 130 grams weight,
d) 2GB RAM, 16GB Internal Memory with microSD expansion
e) 13MP Front Camera,
f) 2MP Front Facing Camera,
g) NFC and Bluetooth,
h) Android Stock Jellybean 4.2 Firmware
HTC One Google Edition Specs:-
a) 4.7 Inched qHD Display,
b) Quad Core 1.7GHz Processor,
c) GB RAM,
d) 32GB Internal Storage without microSD expansion
e) FM Radio and 4MP Ultra Pixel Rear Camera,
f) Android Stock Jellybean 4.2 Firmware
g) Without HTC Sense
So what are you waiting for this one is the great opportunity to buy the latest Galaxy S4 & HTC One Google Edition. Get the HTC One Google Edition here and the Galaxy S4 Google Edition here.