Custom ringtone are one of the best way to customize your Android, iPhone, Windows, Blackberry smartphones. Most of the users like to create there own custom ringtones. So today we come with a new app which helps you to custom ringtones easily. Fried Cookie Ringtone Maker is small utility app which allows you to make ringtones for any of today's popular phone brands. With this app you can make ringtone of any song and accurately select, with the ringtone cutter, exactly which part of the song to convert to a ringtone.
The app is very easy to use, with this tutorial we will show you how you can create and set custom ringtones for Android, iPhone, Blackberry or Windows Phone. Follow the instructions below to create your favorite ringtone.
How to Create Ringtones for Android, iPhone, Windows, Blackberry Phone
Step 1. Download and install Fried Cookie Ringtone Maker on your PC.
Step 2. After the installation run the app on your Windows PC to get started.
Step 3. Now select the song, drag and drop that song into the application window.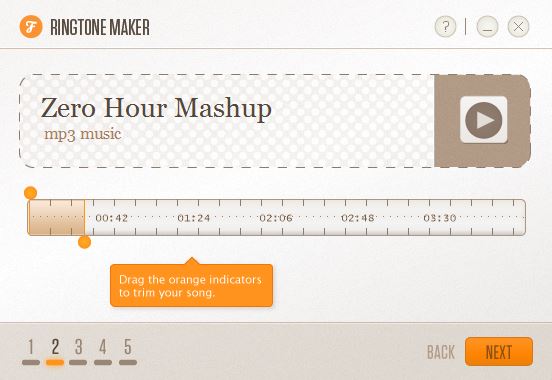 Step 4. Now it is time to adjust the slider to the part of the audio that you want to capture for a ringtone, you can also check the preview of the ringtone from the play menu button from the screen.
Step 5. After that click the next button from the app, now from here select the device for which you want to create a ringtone.
Step 6. Now on the next windows you have to decide where you would like to save the file, and then click Create Your Ringtone.
Step 7. Now the app will take some time to create the ringtone, once the ringtone is created you will get the success message on your screen.
Video Demo: How to Create Custom Ringtone
The Ringtone maker app is free to use and works on Windows XP, Windows Vista, Windows 7 and Windows 8. Both 32-bit and 64-bit OS editions are supported.
Download Fried Cookie's Ringtone Maker