Day by day lots of new rooting tools and apps are coming for the android smartphone, Towelroot application is one of them and one of the best and easy way to to root AT&T and Verizon Samsung Galaxy S5 android smartphone. The new rooting app is developed by one of the most famous hacker Geohot, the same guy who is popular to hack the SONY PS3 and jailbreaking iOS devices. The application is successfully tested on most of the devices like AT&T Galaxy S5, Verizon Galaxy S5, Galaxy S4 Active, and the Google Nexus 5. According to Geohot, the tool is expected to work on all android devices released before June 3, 2014.
The rooting process is so simple, all you have to download the apk file on your phone and install the application and after that you easily get the root access on your phone. If you are the proud owner of AT&T and Verizon Samsung Galaxy S5 android smartphone, here is the dtep by guide which you follow on your phone to root your device.
Root AT&T and Verizon Samsung Galaxy S5 with TowelRoot
1. First got the setting of your device and enable the option install third-party applications from unknown sources.
2. Now visit the http://www.towelroot.com, click the lambda and install the application on your phone.
3. Once the app is installed on your device, run the application form the homescreen and you will see the option "make it ra1n". Tap on it start the rooting process on your phone.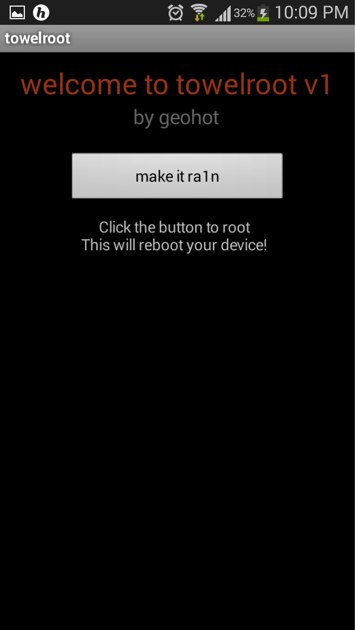 4. Now the tool will install the required files on your device and make it rooted.
This tool might void the warranty of your device. So proceed at your own risk. We or developers are not responsible if you brick your device at the rooting process. Read All the instruction very carefully and follow them step by step on your device.
Via-XDA